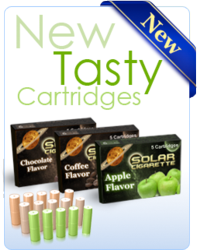 Get access to your own personal smoking buddy to help you stay committed and offer the VIP service you deserve while making the switch to a better lifestyle.
Miami, Florida (PRWEB) July 26, 2012
Solar Cigarette has been at the top of the list when it comes to electronic cigarettes but they have added a new flavor to their arsenal that actually boosts energy with every puff but also keep from gaining weight while fighting their nicotine cravings and after they have dropped tobacco cigarettes for good. Get a taste of all the new flavors that promote weight loss and wellness!
The company has now released their second generation electronic cigarette to their clients which gives smokers the chance to decide which type of smoking experience they would like to have. Smokers can now choose between 3 different smoking experiences and they are "Classic & Bold", "Sweet & Seductive", and "The Fountain Of Youth". See which celebrities have already made the switch.
Smokers who would like to feel as if they are smoking a true nicotine flavored cigarette will be willing to try out the classic and bold flavors while smokers who would like to try a different taste without nicotine would try the Sweet and Seductive.
A representative of SolarCigarette.com states that our most popular flavor was mint and menthol flavors but now our clients are looking to improve their life so they have chosen to use our zero nicotine vitamin packs which helps them feel as if they are smoking a real cigarette but also helps them lose weight and have more energy throughout the day when smoking our ginseng flavored electronic cigarettes.
Discover How To Get A Complimentary Sample Of The Solar Cigarette