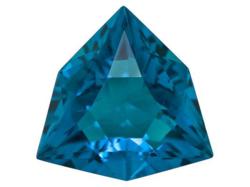 JTV is dedicated to bringing exciting new cuts to the gemstone marketplace.
Knoxville, Tenn. (PRWEB) July 26, 2012
Jewelry Television®, the world's largest retailer of loose gemstones, announced the development of a new proprietary gemstone cut. Named the Terzetto Cut™, this exclusive cut is a modified trillion cut that has been specifically designed to bring out the maximum brilliance in selected gemstones. The cut was specifically designed for JTV's Paraiba Tourmaline simulant loose gems, but the company plans to present the Terzetto Cut in additional gemstones in the future.
"We employ many talented lapidaries," said Jerry Sisk, co-founder of JTV and author of Guide to Gems and Jewelry. "Creating a new cut truly requires the skill of a craftsman and the mind of an artisan. The intricacies and radiance of the Terzetto Cut™ are worthy of critical acclaim."
The word "Terzetto" is a musical term referring to a composition of three voices. The Terzetto Cut draws on the harmony of three-fold symmetry and faceting within the custom cut. Faceting is a style of cutting that enhances the natural beauty of gemstones, reflects light, and adds higher value.
The proprietary cut was inspired by one of the most beloved gemstone cutting designs, the classic trillion, but has nearly double the customary number of facets. The cut boasts 88 precision cut facets which lend to improved light return and overall brilliance that enhances the appearance of each gemstone.
"JTV is dedicated to bringing exciting new cuts to the gemstone marketplace," remarked Sisk. "In the past year alone, we've created more than 30 proprietary cuts including the Merelani Star Cut™, Kilimanjaro Essence Cut™, Starplosion Cut™, American Dynamo Cut™, Spinnerette Cut™, and others."
The triangular-shaped Terzetto Cut is now available in Paraiba Tourmaline simulant stones. Terzetto Cut™ stones retail for $19.99 and up and are available at JTV.com.
About Jewelry Television®
Jewelry Television® (JTV) is the only broadcast shopping network that focuses exclusively on the sale of jewelry and gemstones. The privately-held company was founded in 1993 and broadcasts high definition programming 24 hours a day, seven days a week, to more than 80 million unique households in the U.S. Jewelry Television® was recently ranked the 13th largest retailer of jewelry in the U.S. by National Jeweler. JTV.com is the fifth largest jewelry destination on the internet according to Internet Retailer's Top 500 Guide for 2010. For more information, visit JTV.com.
###