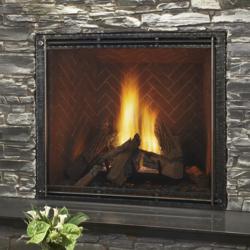 "The TRUE comes after more than five years of R&D and rigorous testing," said Heat & Glo Director of Product Development Chad Hendrickson
Lakeville, MN (PRWEB) July 26, 2012
Heat & Glo® introduces the TRUE. This innovative fireplace provides the most authentic masonry appearance available in a safe, convenient Direct Vent gas platform. Consumers can visit heatnglo.com to find their local Heat & Glo dealer. To learn more about the TRUE, please visit heatnglo.com/Products/True-Series-Gas-Fireplace.
Innovation: The Heart of the TRUE
The TRUE highlights innovation in technology, design and safety from the industry's most award-winning brand. It's a TRUE new wave of traditional.
Technology
High-definition logs and LED accent lighting within the TRUE add intricate detail to robust fires. Anti-reflective glass reduces glare 89% and unveils bold, robust flames.
Design
A clean finish and three different brick interior options create a TRUE masonry look. Tall, prominent openings and large viewing areas in 36, 42 and 50-inch sizes deliver maximum impact.
Safety
The TRUE utilizes Direct Vent technology to remove 100% of combustion exhaust outside the home and ensure optimal indoor air quality. The IntelliFire™ Plus Ignition System ensures sound ignition, and a standard mesh safety screen provides added protection.
"The TRUE comes after more than five years of R&D and rigorous testing," said Heat & Glo Director of Product Development Chad Hendrickson. "It's been a journey—and we're proud to release this new flagship product. We created the best fire, cleanest look and largest view available, and are confident homeowners will be thrilled with the results."
To learn more about the TRUE and the entire line of Heat & Glo fireplaces fireplace inserts and stoves please visit http://www.heatnglo.com.
About Heat & Glo®
Heat & Glo has been the industry leader in style and innovation since its inception by brothers Ron and Dan Shimek in 1975. The brand pioneered Direct Vent gas technology in 1987 and revolutionized the way fireplaces operate in the years that followed. Today, Heat & Glo continues to develop unmatched technologies, materials and designs in a full lineup of gas fireplaces, inserts and accessories. The brand is headquartered in Lakeville, MN and a member of Hearth and Home Technologies (HHT). For more information, visit http://www.HeatnGlo.com.
###