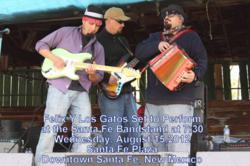 Santa Fe, New Mexico (PRWEB) July 25, 2012
Santa Fe Bandstand is a free summer music festival on the Santa Fe Plaza, produced by Outside In Productions and a crew that strives to present the city with a wide range of performers, who represent the diversity and wealth of musical talent in this region. Performances take place Monday to Thursday, through August 16, 2012. All shows are free and open to the public. During evening performances, the first act begins around 6 p.m., the headlining act performs at approximately 7:30 p.m. Santa Fe Bandstand brings Felix Y Los Gatos and Nacha Mendez to the stage from 6 to 8:30 p.m., Wednesday, August 15, 2012. This event and then entire Santa Fe Bandstand event schedule is on Santa Fe visitor guide SantaFe.com
Felix Y Los Gatos describes themselves as one of the best party bands in New Mexico. They play a variety of music from the South and Southwest, including zydeco, Americana, blues, funk, rancheras and cumbias.
Nacha Mendez is a singer songwriter whose music was aired on the first annual Latin Grammy Awards on CBS and who has performed locally, regionally, nationally, and internationally. Photo of Nacha Mendez by Bibi Borrego. Nacha Mendez (also known as Marghreta Cordero) grew up in the tiny border town of La Union, in southern New Mexico, where she began singing and playing the guitar at an early age. She learned traditional Ranchera canción from her grandmother and performed in border towns near El Paso with her cousins, the Black Brothers, sons of ex-Mothers of Invention drummer Jimmy Carl Black.
She went on to study classical voice and electronic music at New Mexico State University before moving to New York City, where she studied flamenco guitar with Manuel Granados of the Music Conservatory of Barcelona, Spain. In the early '90s, she was a principal singer in Robert Ashley's opera company, touring Europe and Japan and translated the libretto for Ashley's opera Now Eleanor's Idea. She performed trouser roles in three of his operas throughout Japan, at the Avignon Music Festival, Brooklyn Academy of Music, Strasbourg, France, Graz, Austria, and Berlin.
Nacha has also collaborated with celebrated composer Steve Peters who produced "Bodega de Amor" and "Volando." "My Burning Skin to Sleep," a song on the 2004 CD release Shelter by Steve Peters and distributed by the Cold Blue Label features the voice of Marghreta Cordero aka Nacha Mendez. Her recordings include "Slowly Rising" (as Dueto Le Momo), and "Blue Silence," "Bodega de Amor," and "Volando" (as Nacha Mendez). Since 1990, she has worked on several projects with Steve Peters and has collaborated with writer Melody Sumner Carnahan, visual artist Harmony Hammond, and filmmaker Catherine Gund.
Cordero received a National Endowment for the Arts Award and a fellowship from Mutable Music in New York. In February 2011, she was honored by the New Mexico Committee of the National Museum of Women Artists. She was recently voted Best Female vocalist in Santa Fe, New Mexico in both 2009 and 2010. Cordero was also voted 'Best Family Friendly Entertainer' by the Santa Fe Human Rights Alliance during the 2012 Pride Alliance Awards. She performs under her grandmother's name, Nacha Mendez, touring regionally with her band, playing her original, eclectic pan-Latin-style songs. Mendez currently sings with the Madreselva Tango group, performs solo acoustic at Santa Fe, New Mexico, restaurants/clubs El Farol and La Boca where she performs weekly at these Spanish Tapas establishments, as well as performing from time to time at the La Posada de Santa Fe Resort and Spa.
Cordero is working on her next recording due out in 2012. She also paints and sculpts and exhibits her work in Santa Fe, New Mexico.
About SantaFe.com:
SantaFe.com provides locals and visitors to Santa Fe alike the most current interactive platform for events, music, arts, business, dining and lifestyle. SantaFe.com is a division of Hutton Broadcasting, located at 2502 C. Camino Entrada, Santa Fe, NM 87507
Contact Information:
Scott Hutton
SantaFe.com / Hutton Broadcasting
http://www.santafe.com
(505) 471-1067 (Media inquiries only, please)