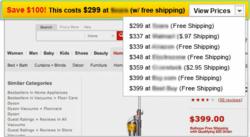 One of the major highlights of the Besttoolbar browser add-on development service is that the toolbars work seamlessly with the browsers
Alexandria, VA (PRWEB) July 31, 2012
Converting casual on-line browsers and shoppers to loyal customers is a challenge that just about every deal, coupon, and cashback site faces. With more savings sites popping up every day, potential customers expect to find exactly what they are looking for when they need it most - during checkout. Customers don't want to have to search high and low for a coupon code or offer, so it becomes a matter of "first-come, first serve", with the first site they come across offering a deal to get the revenue from the purchase. The newest version of Besttoolbar's browser add-on development framework takes care of this problem across all browsers, generating more sales for the merchant.
Besttoolbars takes browser add-on development to a new level by providing a solution for companies and deal websites. Their add-ons make it easy to find exactly what the customer needs while keeping both the customer, and their potential revenue, on the site. Customers no longer have to leave the site in search of codes, and site owners no longer have to split revenue with third-party affiliates that run ads and coupons for them. When the customer browses the site and adds products to their cart, the toolbar alerts them to potential coupon codes and cashback deals.
One major highlight of the Besttoolbar browser add-on development framework is that the toolbars work seamlessly with the browsers. They're highly intuitive and can actually monitor all the tabs that are opened by the user and process information from those tabs. If the add-on sees the customer browsing on a merchant website, it can automatically insert offers to alert the customer to potential savings. In fact, the browser add-ons can even insert offers on other vendor's websites, letting the customer know about a better deal elsewhere.
Besttoolbar statistics indicate that a whopping 86% of customers will make their purchase at another website if they see a better deal. The key is that the customer "sees," as many internet users rely on a select few websites for their shopping needs, and may not even consider comparison shopping. In an age of instant technology and lightning-fast internet access, instant gratification has become more important than ever before.
Besttoolbars additional features to its browser add-on development allows merchants to have full control over every aspect of their toolbar. Everything from the initial creation to any necessary changes are in the hands of the merchant, allowing them to create a completely customizable experience that engages their specific customer demographic. From video messages to to surveys to captivating flash widgets, Besttoolbar offers a wide range of services for both the merchant and companies that will result in more sales.
About Besttoolbars:
Formed in 2003, Besttoolbars is known as the leader in toolbar and add-on software. Besttoolbars focuses on browser toolbars, add-ons and extensions solutions and also offers a toolbar and add-ons frameworks. Besttoolbars has created desktop products for leading Internet companies. More than 7000 companies worldwide use Besttoolbars solutions.