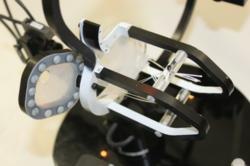 We don't mind at all if our customers perceive that the personal service, responsiveness and cost structure of our operations resemble the smaller shop we used to be
Pleasanton, CA (PRWEB) July 31, 2012
Peridot Corp., in partnership with medical supply directory Qmed, have produced an on-demand webinar discussing the importance of choosing the right manufacturing partner. Organizations recognize that while both small, mom-and-pop machine shops, and larger, buttoned-up precision manufacturers have specific benefits, the ideal partner is able to combine the approaches and philosophies of both. A full pipeline of products moving through development and production at medical device OEMs requires flexibility, responsiveness, as well as a fully established quality system.
Peridot President Patrick Pickerell explains the logic behind the value proposition, "During the 16 year history of Peridot Corporation, we've worked with medical device companies that want it all when it comes to choosing precision component suppliers. They want very quick delivery and low prices with excellent quality and regulatory support. In the real world of precision manufacturing, it is very difficult to maintain a balance between both worlds. Luckily, we work very hard to reach that ideal."
For medical OEMs, it may be acceptable during the R&D phase to trade an ISO 13485 certified manufacturer for quick turn-around. But when production models are being used in human trials, it is necessary for all vendors in the supply chain to have to have the proper quality system in place to satisfy the regulatory component.
The Peridot management acknowledges that marrying the two approaches can be a juggling act. "The challenge for companies that pursue ISO-13485 certification is not to maintain the appropriate quality systems," says Pickerell, "but to retain the agility and responsiveness that were hallmarks of their mom-and-pop phase."
Pickerell believes that Peridot Corp. customers get the best of both worlds. "Ultimately," he says, "while the diversity of the services we offer and our certification credentials put Peridot on par with many larger manufacturers, we don't mind at all if our customers perceive that the personal service, responsiveness and cost structure of our operations resemble the smaller shop we used to be."
The on-demand webcast provides further insights on the topic in addition to a video facilities tour of Peridot's 32,000 square ft. operation and the company's Class 10K clean room. It can be viewed here: http://goo.gl/uFe6g
To learn more about recent Peridot projects, visit the Peridot blog.
Peridot Corp. is your next-generation production partner, offering complete component fabrication and assembly services to a diverse range of industries including the medical device industry, automotive, electronics, alternative energy, oilfield instrumentation, the semiconductor industry and many others. With a diverse array of capabilities including Laser Processing, CNC Machining, Wire EDM, Tube Fabrication, Stamping, Sheet Metal and Wireforming, Peridot simplifies your supply chain. That's why it's fitting that Peridot has always adopted the mantra, "Go ahead. Challenge us!"