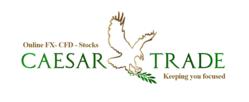 How can a swap-free account be that different from a regular account when interest rates are at all time lows?
Dayton, Ohio (PRWEB) July 27, 2012
Along with providing guaranteed low-cost spreads for Islamic Forex Traders, CaesarTrade would like to bring awareness to Forex Traders that interest rates are at record lows and even negative, when inflation is factored in. As a result, the cost of trading Forex should be reduced. CaesarTrade, who has been a market leader for customer value, is now passing along savings to traders who are required to have a Swap-Free account.
Besides now offering the guaranteed low-cost trading,CaesarTrade offers a knowledgeable team expert experience in the forex industry and as traders. As Eric Harbor, the CEO of CaesarTrade, says "While other brokerage sites may have representatives that speak a vast array of languages in order to talk to their clients from around the world, these representatives are often put in place merely to speak a language, not for their knowledge."
CaesarTrade's management and its in-house research team have extensive experience in the financial market and being customer representatives. Each individual in the organization prides itself on providing only the best world-class information and education and looks forward in being of service in the volatile financial times we are living in.
Company Information:
CaesarTrade is an online forex trading company headed by CEO Eric Harbor who has been involved in forex since 1996, and Cliff Wachtel, a highly regarded forex educator and published author of The Sensible Guide to Forex. For more information on forex trading visit: http://www.CaesarTrade.com.