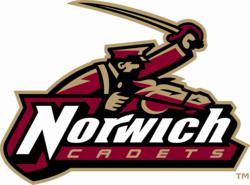 Northfield, VT (PRWEB) July 27, 2012
Norwich University Director of Athletics Tony Mariano announced the inductees for Norwich University's Athletic Hall of Fame Class of 2012 earlier this month.
Nine individuals and the 2001-02 men's soccer team will be recognized as part of Homecoming Weekend 2012 festivities Sept. 14-Sept. 16. The inductees are as follows:
Kelly Chiffer '02 – A four-year standout on the women's swimming & diving team including All-New England status in the 100 breaststroke, 200 breaststroke, 400 individual medley. In her senior season she earned the Kay Frommer Award, which is given to the woman who accumulated the most points at the New England meet during her four years. Chiffer was also named the most outstanding female swimmer at the New England Championships in 2002. She also won the prestigious Garrity Award, which is given annually to the Norwich senior who has distinguished himself/herself athletically, academically and has displayed leadership in the NU Corps of Cadets. Chiffer also was named a CoSida (Collegiate Sports Information Directors of America) collegiate division academic All-American.
Scott McCarthy '97 – A two-year captain and the all-time points leader for the Norwich men's lacrosse program. McCarthy made an impact for the Cadets from his first step on the field as he was named the team Rookie of the Year after his freshman season. He followed up with three more impressive seasons, including being named team Most Valuable Player on offense in all three seasons. As a sophomore, Scott ranked 11th in the nation in assists (24) and points (53). During his senior season he scored 37 goals and tallied 26 assists for 63 points on his way to being named Second Team All-New England and selected to play in the East/West All-Star game. He concluded his career with 126 goals and 84 assists for 210 points.
Greg Peterson '67 – A three-year letter winner with the men's basketball team while playing under head coach Robert Brannum. He was also named co-captain for his senior year in 1966-67.
Elizabeth Quigley-Murphy '82 – A four-year standout and member of the inaugural varsity women's field hockey team in 1978. She ranked fourth on the team with three goals and helped lead the Cadets to a 9-3-2 record in the program's first season. Quigley was a three-time New England College Field Hockey Association All-Star in 1978, 1979 and 1981.
Rick Riccio '72 – A three-year letter winner with the football team who gained notiriety for his stalwart defensive play. He was named defensive Most Valuable Player during his senior season in 1971 while also serving as a captain for the Cadets.
George Valhouli Jr.'62 – A three-year letter winner as a member of the football program. He was named to WCAX-TV's Vermont All-State team in 1960 and 1961. Valhouli served as a co-captain during his senior season and went on to coach one year at Norwich as well. He also served as the manager of the ski team.
Art Venezia '67 – The first of two distinguished letter winners in the 2012 inductee class. Venezia was a dual sport three-year letter winner in both hockey and soccer.
Sam Worth '87 – The second of the distinguished letter winner inductees for 2012 was a three-year letterman in football. As a senior in 1986, he was named the team Most Valuable Player while also serving as a captain.
Craig Sullivan – "Doc" Sullivan is this year's honorary inductee as he has been working with Norwich student-athletes for the better part of three decades. He serves as the primary team physician for the Norwich men's ice hockey and football teams and attends all home games as the doctor on call. He has been instrumental to the success of the athletic programs by working with student-athletes to get them back in the game in a timely and efficient manner.
The 2001-02 men's soccer team still stands as the most successful team in the 58-year history of the program. The Cadets won their first 21 games during the 2001 season on their way to clinching their third straight GNAC Tournament championship with a 1-0 win over Western New England College. Led by Tim Kyrkostas' 16 goals and 25 assists for 57 points and Mariano Conte's 16 goals and six assists for 38 points, NU outscored its opponents 90-19 during the memorable campaign. In goal, junior keeper Josh McElroy recorded 12 of the team's 13 shutouts and continues to hold nearly every single season and career goalkeeper record at NU. The Cadets beat Keene State 2-0 in the first round of the NCAA Tournament before falling to perennial powerhouse St. Lawrence in the Round of 32.
Norwich University is a diversified academic institution that educates traditional-age students and adults in a Corps of Cadets and as civilians. Norwich offers a broad selection of traditional and distance-learning programs culminating in Baccalaureate and Graduate Degrees. Norwich University was founded in 1819 by Captain Alden Partridge of the U.S. Army. Norwich University is the oldest private military college in the United States of America and the birthplace of our nation's Reserve Officers' Training Corps (ROTC). http://www.norwich.edu