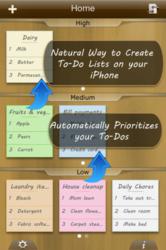 Orderly is the most natural way to manage your To-Do lists using simple iPhone gestures.
San Jose, CA (PRWEB) July 27, 2012
Tekton Technologies today is pleased to introduce Orderly for iOS, their productivity app that lets users create To-Dos on sticky notes of any one of six different colors, typing in any of three different fonts. Once completed, notes are displayed on one of three shelves using Apple's bookshelf metaphor: High Priority, Medium, and Low. Users can instantly view all their To-Dos, expand and contract them with pinch gestures, edit items, change their priority, mark them as complete, or swipe them to delete. The app includes two full-screen bookshelves, Home and Work, allowing users to keep To-Dos posted according to priority and location.
The extraordinary simplicity, practicality, and design of Orderly sets it apart from the many To-Do apps available. Having concluded that pinches and swipes are ergonomically more efficient than taps (which require hitting a target button), Tekton Technologies has employed the fundamental principles of human factors to design a To-Do app that is highly efficient, instantly informative, and accommodative of the daily needs of real people. The learning curve for the app and all its features is about one minute.
For a quick demo please visit: http://orderly.tektontek.com
Feature Highlights:

Create a To-Do instantly
Great usability using simple iPhone gestures
Pinch to zoom in/out to have a quick glance of the To-Do
Automatically prioritizes your To-Do based on the due date
Long press to delete, or drag n' drop to move a To-Do to a different priority
Swipe right to mark an item completed or swipe left to delete an item from the To-Do
Supports two boards or views: a Home view and a Work view
Set colors/fonts, priorities
Can set recurring dates
Instantly share a To-Do via SMS or email
Once a To-Do is completed, it moves automatically to the archives, and you can browse through them when needed
At launch in portrait orientation, the app opens to either the Home or Work page (reversed with a page flip transition). Sticky notes go on one of three shelves, depending on priority: High, Medium, or Low. Users are free to invent their own color-coding for notes, as the app supplies all six of the standard sticky note colors (pale yellow, pale green, pale blue, pale orange, pale red, or white). Completed notes can have their priority set from the Scheduling Menu as a category (High, Medium, Low), or according to a Due Date (user selectable from the date picker). Also available is a Recurring category that can be set for Daily, Weekly, etc.
The colored, rectangular sticky notes are displayed three to a shelf, or nine to a page. Scroll dots indicate that more notes are viewable on that shelf by scrolling horizontally. Touching any note causes it to grow to fill the entire screen. The notes are clean and spacious holding just six items in full screen mode (before scrolling) and three items in shelf display mode. When enlarged, notes may be edited, and swiping left to right across any item brings up a Completed button beside the item. Touching the button dims the item, but does not delete it, check it, or cross it out. Swiping right to left brings up a Delete button, which removes the item with a text slide animation off the page.
The app includes many customization options including backgrounds, textures, colors, fonts, headings, priorities, etc. Sound effects can be turned on/off, and Archives (completed items) maintained up to 60 days. With a colorful, clean interface for posting, checking, editing, and completing To-Dos, Orderly breaks down long lists of reminders into easily manageable sticky notes.
"Orderly is the most natural way to manage your To-Do lists using simple iPhone gestures," stated Rajesh Janakiraman of Tekton Technologies. "All your info is presented as simple sticky notes, so that you can create To-Dos and post them on your board, just like a sticky note. But this App allows you to prioritize your To-Dos, without the hassle of misplacing a note or forgetting an item, just because there are too many To-Dos to manage. The best part of the app is that Orderly automatically prioritizes your To-Dos by moving around those sticky notes."
Device Requirements:

iPhone, iPad, or iPod touch
Requires iOS 4.3 or later (iOS 5 tested)
Universal app optimized for display on all iOS devices
2.6 MB
Pricing and Availability:
Orderly 1.1 is now at the introductory price of $0.99 (USD) and available worldwide exclusively through the App Store in the Productivity category. Purchase and download at: http://itunes.apple.com/app/orderly/id506632088
Review copies are available on request.
For more information or media inquiries, contact Mark Johnson of appshout! on behalf of Tekton Technologies at +1 408 757 0156 or press(at)appshout(dot)com.
Tekton Technologies
Tekton Technologies is a software technology company that focuses on mobile application development for the consumer as well as enterprise clients. The company has developed great Apps available on the App Store for iOS devices and has a great user base for their Apps. They also developed successful solutions for their clients in the mobile and Internet space, such as mobile based coupons, mobile food ordering and many other innovations. Copyright (C) 2006-2012 Tekton Technologies. All Rights Reserved. Apple, the Apple logo, iPhone, and iPod are registered trademarks of Apple Inc. in the U.S. and/or other countries. Other trademarks and registered trademarks may be the property of their respective owners.
Learn more: http://www.tektontek.com