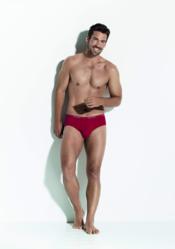 DGU expects their busiest Christmas yet as more and more people discover the joys of internet shopping.
(PRWEB UK) 30 July 2012
It seems like summer has only just arrived but men's underwear and swimwear website Deadgoodundies.com is already looking ahead... All the way to Christmas.
The festive season is always busy for the online only retailer and this year DGU expects their busiest Christmas yet as more and more people discover the joys of internet shopping (especially for men's underwear!).
Owner of men's underwear and swimwear specialists Deadgoodundies Adam Davies also thinks there has been a change in the way people shop for men's underwear. "Men are definitely taking more control over their undies drawer," he says. "Brands release seasonal styles just like every other fashion sector and guys are no longer satisfied with poor quality or boring multipacks. Those men who buy for themselves will be in for a treat in the run-up to Christmas, and those who always end up with the same old pants as presents every year can find masses of new ideas at DGU. They just need to point their nearest and dearest to DGU.
"We always see a higher percentage of women buying in the run up to Christmas. They realise it is a great opportunity to get their fellas into something they want to see them in, hopefully influencing what they will be wearing, and buying, in 2013."
The question remains what will be the most popular style of the festive season. Previous years have seen boxer briefs top the best seller lists at Deadgoodundies.com despite skimpier briefs and men's thongs winning hands down in the earlier months of the year.
Although early autumn designs have already started arriving at DGU, collections will release new seasonal styles right up to November so shoppers will have a great choice of new releases however early (or late) they start their search for the perfect gift.
Company Information
Deadgoodundies is an online only retailer stocking the best in designer men's underwear and swimwear from all over the world including, in alphabetical order, Big Boys, Body Art, Bruno Banani, Bum Chums, Clever Moda, Doreanse, Ergowear, Gigo, Gregg Homme, HOM, James Tudor, Jockey, Joe Snyder, MaleBasics, MANstore, Mey Bodywear, Mundo Unico, Nils Bohner, Obviously For Men, Olaf Benz, Passion, Pikante, PUMA, Sloggi, Solar TanThru and Zoggs. DGU also stock selected loungewear, socks, T-shirts and more from their top brands.
DGU are incredibly media friendly and always have high res images on hand for fashion pages, samples for photoshoots and expert comment and insight from partners Adam and Jane.
For more information contact Jane or Charlotte at DGU PR on 01743 271615 or email pr(at)deadgoodundies(dot)com.