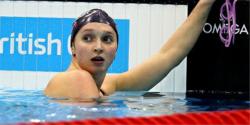 Often during the middle of a heavy set I look over and see Caitlin red in the face, working really hard. It spurs me on to be more like her
(PRWEB) July 27, 2012
As she continues her final preparations for the Paralympics, swimmer Emma Hollis will be keeping a close eye on developments in the Olympic pool.
Caitlin McClatchey begins her London 2012 campaign in the women's 4x100m freestyle relay on Saturday - and Hollis, who trains with McClatchey at Loughborough University, will be cheering her all the way.
"When I first moved to Loughborough in 2010, I thought 'Wow! I'm swimming in a lane with Caitlin McClatchey'," Hollis told C4Paralympics. "But now we're really good friends. We have a laugh and a giggle. Caitlin's great to train with because she's never down or in a bad mood. She's very friendly, very helpful and spurs you on."
While geography student Hollis is getting ready for her first Paralympics at the age of 20, McClatchey goes to London as an experienced member of GB's Olympic swimming team.
The 26-year-old won two gold medals at the 2006 Commonwealth Games, and finished sixth in the 200m freestyle at the Beijing Olympics in 2008.
"Often during the middle of a heavy set I look over and see Caitlin red in the face, working really hard. It spurs me on to be more like her," says Hollis. "It makes me want to train even harder seeing what she has achieved and how hard she has had to work for it. She's very supportive of other people. I was doing a set last week and her constant motivation, telling me I could do it, helped me get through."
Hollis and her younger brother James have osteogenesis imperfecta, a genetic condition more commonly known as 'brittle bone disease'. Both swimmers have been selected to represent Paralympics GB in London – Emma will compete in the S8 class and James in S9.
Emma, who has just finished her second year exams at Loughborough University, is part of the group – including McClatchey – that is coached by Ian Armiger.
"We have a good mentality at Loughborough, and Ian often tells me if I don't have a sense of humour then I haven't got a chance. We have fun while we are doing it," says Hollis. "There is a family mentality in the squad and the whole team gets behind each individual."
As the excitement builds ahead of the Olympics opening ceremony on Friday, Hollis is confident McClatchey will be able to handle the pressure on the Team GB athletes.
"Sometimes you can feel that the pressure will get to high-profile sports stars with lots of expectations on their shoulders, but Caitlin's so jolly," says Hollis. "I haven't noticed any difference in her at all. She is very focused on what she is doing and if she is feeling the pressure she's not letting any of us see it. You can tell she is excited. We have 14 swimmers going to the Olympics, plus me at the Paras, so the whole place is buzzing at the moment. I'm sure she'll do brilliantly. She has worked so hard, and I wish her all the best."