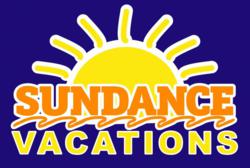 Wilkes-Barre, PA (PRWEB) July 27, 2012
Sundance Vacations, a leading provider of discount travel accommodations, is proud to be a Marquee Sponsor of the 2012 QuickCheck New Jersey Festival of Ballooning taking place this weekend, July 27-29, 2012, at Solberg Airport in Readington, New Jersey.
Sundance Vacations is offering all QuickCheck Balloon Festival visitors the opportunity to enter its Dream Giveaway Sweepstakes. One National grand prize winner of the sweepstakes will receive their choice of an automobile valued at up to $70,000 or $50,000 in cash.
Festival visitors will also have the chance to win other Sundance Vacations promotional prizes such as a fantasy trip to Hawaii, Orlando or Pebble Beach including airfare, hotel accommodations and spending cash; a high-definition LCD television; a prepaid credit-card worth $1,000; a winner's choice Sports/Music package that includes four tickets worth up to $1,000 to a sporting or music event, or one of three different Sundance Vacations packages worth $15,000 each. Complete contest rules and entry materials will be available on site.
"We have attended the festival for several years, and we're excited to be here to help celebrate the 30th. It's a family oriented event that always provides Sundance with a great opportunity to connect with new customers," said John Dowd, President of Sundance Vacations.
About the QuickCheck New Jersey Festival of Ballooning:
The Quick Chek New Jersey Festival of Ballooning is the largest summertime hot air balloon and music festival in North America, celebrating its 30th festival in 2012. The three day Festival at Solberg Airport in Readington, NJ features twice a day mass ascensions of more than 100 sport and special shaped hot air balloons from around the world, live concerts, and family entertainment and attractions. The largest event of its kind, the Festival has been named one of the Top 100 Events in North America five times by the ABA and the No. 1 Thing to Do in New Jersey in 2012 by New Jersey Monthly magazine. A portion of all proceeds from the festival are donated to the Children's Miracle Network, which funds three pediatric hospitals in New Jersey.
Tickets are available at all Quick Chek store locations or by calling 973-882-5464, 1-800-HOT-AIR9 or online at http://www.balloonfestival.com.
About Sundance Vacations:
Sundance Vacations is a national travel company that specializes in discount vacation accommodations at destination golf, beach, ski and mountain resorts throughout North America and the Caribbean. The company is headquartered in Wilkes-Barre, Pennsylvania and maintains offices in four other locations including; King of Prussia, PA; Harrisburg, PA; Downers Grove, IL and Rockaway, NJ. Sundance Vacations has been named one of the Best Places to Work by Best Companies Group four times in Pennsylvania, three times in Illinois and once in New Jersey. The company has been honored three times as one of the Fastest-Growing Travel Companies in Pennsylvania by Inc. 500/5000. Please visit Sundance Vacations at http://www.sundancevacations.com.