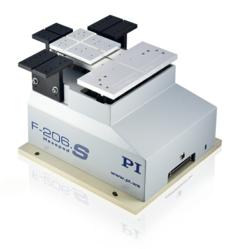 Auburn, MA (PRWEB) July 28, 2012
H-206: Automatic Alignment in All Six Axes
The new H-206 alignment system can align fibers, collimators, fiber bundles and arrays quickly and efficiently.
Compact and Fast, High-Speed Piezo Scanner Option
A high performance controller with optional photometer cards and built-in alignment algorithms provides up to 10x higher throughput than conventional alignment systems. An optional piezo flexure scanner can further speed up the acquisition of a complete optical output profile of an optical device. This information can be used to characterize the device or to make sure that the absolute optical output maximum is found instead of locking on to an local maximum as can be the case with gradient search algorithms.
Rotation around any Point
Unlike conventional multi-axis positioners where the pivot point is dictated by the mechanical design of the rotation axes (rotary stages and goniometers), the parallel-kinematic design of the H-206 and its vector motion based controller allow for a randomized user-specified virtual-pivot-point. Rotating around the tip of a fiber or the waist of a beam, for example, is now as easy as entering the coordinates of the center of rotation in the software.
Features & Advantages

Fully Virtualized Center of Rotation
Motion in All Degrees Of Freedom from One Compact Positioner
Powerful Controller with built-in Alignment Routines
Fast Piezo Scanner Option
33 Nanometer Actuator Resolution
Just one fixed cable between the mechanics and the controller eliminates cable management issues
For more information go to http://www.physikinstrumente.com/en/products/prdetail.php?sortnr=700821&onl_prw