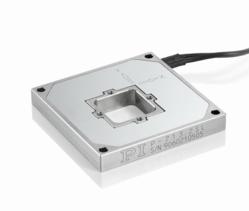 Auburn, MA (PRWEB) July 29, 2012
Piezo scanning stage specialist PI (Physik Instrumente) L.P provides a low-cost, very compact piezo XY-positioner / scanner for image stabilization and resolution enhancement by pixel sub-stepping.
The cost-effective, low-profile OEM system is designed with a high mechanical resonant frequency of 2250 Hz for fast response and scanning.
It is driven by ceramic encapsulated PICMA multilayer piezo actuators similar to the ones that were tested at NASA's Jet Propulsion Lab for 100 Billion Cycles. Piezo actuators achieve sub-nanometer resolution and are available with position feedback for applications where high repeatability and absolute accuracy are required.
The low profile of only 6 millimeters aids the integration in to OEM systems.
Application Examples
Image stabilization, scanning microscopy; image scanning, , resolution enhancement in infrared sensors; nanopositioning.
Features & Advantages

Compact design for Easy Integration
Ultra-Long-Life Piezo Ceramic Drives (Billions of Cycles)
Low-Inertia parallel-kinematic design for high response rates and resonant frequency above 2 kHz provide faster settling and scanning.
Piezo Controllers
Compact OEM controllers and bench top controllers for testing are available
[More information on Pixel Substepping with Piezo positioners is available at
http://www.pi-usa.us/pdf/Paper_Imaging_Resolution_Enhancement_With_Piezo_Mechanisms.pdf
PI (Physik Instrumente) LP
16 Albert St.
Auburn, MA 01501
USA / Canada/Mexico: http://www.pi-usa.us, Email: info(at)pi-usa(dot)us
Phone: East / Midwest: (508) 832-3456, West: (949) 679-9191