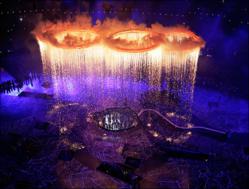 The opening ceremony was spectacular, it is so great to see the world's nations unite here in London
New York City, New York (PRWEB) July 30, 2012
London 2012 Olympics opening ceremony took place on Friday 27th July and was watched by over 1 billion people around the globe. Red Ten NYC's Director flew from New York to London last week and was one of the 60,000 people in attendance at the Opening Ceremony at the new Olympic Park located in east London. 'The excitement in London leading up to the open ceremony was electric, the city is buzzing. There are events and parties taking place all over London, we feel very fortunate to be able to be here in person and take part in this historic event' says Red Ten NYC's Director.
London is under enormous pressure as they host the two largest sporting events in the world from 27 Jul -12 August. According to the BBC, there are more than 10,000 athletes from 204 nation's participating and an audience expected to exceed 1 billion over the duration of the games. Prime Minster, David Cameron said Britain is ready for the 'greatest show on Earth'. 'The Olympic committee spent 7 years preparing for the opening ceremony for London 2012 which was a spectacular performance, it is so great to see the world's nations unite here in London' added a spokesperson for Red Ten NYC.
While in London Red Ten NYC will be meeting suppliers and speaking at a Business Development Seminar attended by some of the United Kingdom's most successful business owners in the outsourced marketing industry. The New York based firm, Red Ten NYC are leaders in face-to-face promotional activity and event marketing. The firm's Managing Director is scheduled to speak for 45min on business growth and international expansion into the US market. 'It is going to be a busy trip while we are here in London; we have a very tight schedule which includes speaking at business meetings and attending Olympic events and after parties' continues Red Ten NYC's Director.
Red Ten NYC plan to attend as many Olympic related activities as possible while in London.