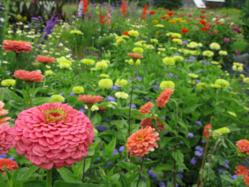 Plan ahead to help the garden fend for itself while its gardener is "off-duty."
Lebanon, PA (PRWEB) July 31, 2012
August is vacation season and that means it's time for gardeners to log some time fishing, swimming or snoozing in a hammock. Plan ahead to help the garden fend for itself while its gardener is "off-duty." No one's post-vacation mood is improved by returning to a dead, dry or weed-choked plot. For practical seasonal notes, see the "Garden Landscape Tips" section of preen.com/gardentips [http://www.preen.com __title__ Preen.com]

For hanging baskets and potted plants: Inexperienced plant sitters often rush when watering plants to finish the job quickly. Take time to show the sitter exactly how much water is required to keep plants in good health. When watering potted plants, do it slowly to make sure the root ball gets completely soaked.
By late summer, many weeds are in seed production mode. Deal with weed seeds now, so there will be far fewer weeds to contend with in the future. Cut back any mature weeds to stop them before they go to seed. Reapply Preen Garden Weed Preventer to flower beds and shrub borders to stop weed seeds from germinating in late summer and fall.
Remove spent flowers from zinnias, snapdragons and other flowering annuals. For holidays lasting for a week or two, cut as many flowers as possible before leaving. Bring bouquets to neighbors or co-workers. These cut-backs will keep plants in active growth, generating a new flush of buds for late season color.
Remove any vegetable plants that have passed their prime, including peas, early beans, lettuce and spinach. Before leaving, replant those areas with fall crops of more lettuce and spinach as well as beets and kale. Cover the area with shade netting or a light row cover to keep the soil surface moist so veggie seeds can germinate without the need for daily watering. Once young plants are 2 to 3-inches tall, apply Preen Vegetable Garden Weed Preventer to keep new weeds from sprouting.
For more information on gardening and landscaping visit http://www.preen.com. Preen is the leading brand of garden weed pre-emergent. Preen products don't kill weeds; they are weed preventers. Apply Preen in August to stop late season weed seeds from germinating in the garden.