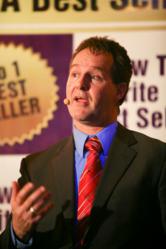 My job is to create best sellers… It's what I've done for the last 18 years.
Melbourne, Australia (PRWEB) July 30, 2012
International bestselling author Darren Stephens will be holding a workshop on his book "How to Write A Best Seller," from August 3 until August 5. The workshop will be held in the Rendezvous Grand Hotel in Melbourne, Australia.
In his book "How to Write A Best Seller" Stephens guides readers on how to "quickly and easily write your very own book" and making it a bestselling book.
He points out that there are 4 types of people who want to write a book: those who want to build credibility, those who want to write to record their life lessons, those who want to make money, and those who passionately believe they have a message to share.
With 18 years of experience in the book publishing industry, developing brands and books such as John Gray's "Men Are From Mars Women Are From Venus," Darren Stephens is one of the foremost authorities in publishing.
Stephens says, "My job is to create best sellers… It's what I've done for the last 18 years. In that time, I've brought to the market 21 best sellers for many well-known authors."
Dr. Gray said, "Without a doubt he's a marketing and licensing genius. Over the years his brilliant strategies have positioned me and the Mars Venus books and brand in a way that's ensured exponential growth and success on the world stage."
Darren Stephens is also an accomplished speaker and lecturer. He has taught and motivated thousands of people in professional, personal, and financial success as a highly sought-after international speaker in over 27 countries. He is very popular among business executives and direct marketing experts.
ANZ Corporate Banking Manager Mark Greenberg said, "It was a great atmosphere and all attendees really enjoyed the thought-provoking discussion and interactive style.
About Darren J. Stephens
Darren Stephens is a self-made multi-millionaire and a seasoned business executive, entrepreneur, growth strategist, bestselling author, and consultant. He is the author of bestselling books like "How to Write A Best Seller, The 10-Day Turnaround, and The Magic of Making Money on eBay." He is also the Managing Director of Global Publishing Group.