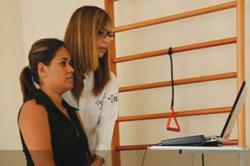 A clear pelvic floor assessment and treatment can help a person gain control on their own.
(PRWEB) July 31, 2012
Live online biofeedback for Pelvic Floor Muscle Dysfunction
On Wednesday, August 8th, 2012, Dr. Howard Glazer will conduct a real-time telemedicine assessment session from New York, with Jane, a 45-year old woman located in Sao Paulo, Brazil. The online assessment takes less than half an hour from start to finish. It is not only useful for Jane to help her understand the way pelvic muscles are involved and related to her symptoms, but entirely free. The results help to guide professionals to form a clearer diagnosis and individual treatment plan.
Jane's Story of Finding Help Through A Pelvic Floor Specialist
Jane's symptoms started with episodes of urinary leakage when coughing, sneezing, running or jumping. The slow, but steady increase in symptoms led to Jane always using a pad and having fears of an accident. Jane had seen different health professionals over the years before her gynecologist suggested she see a pelvic floor specialist. Jane was a bit skeptical at first, but that changed after her first visit. The physical therapist was the first person that seemed to understand what Jane was going through. After an assessment (like an EKG for the pelvic muscles) and biofeedback combined with other therapy, Jane's symptoms for the most part disappeared. "I will sometimes still have minor frequency and urgency but thanks to biofeedback I have learned to control this on my own. Thanks to my OBGYN and Claudia, I can say I am 90% better. I'm looking forward to seeing the results of my next assessment with Dr. Glazer."
BFE-Continence Team Member Claudia R. Hacad, PT
When asked about her experience working with this population, Claudia replied, "People fear being judged so bad that this condition actually imprisons them, forces them to isolate and give up doing things they love. The symptoms make everyday life very challenging. Many OBGYNs, Urologists and other specialists still don't know good physiotherapists that understand what the patient is going through. A clear pelvic floor assessment and treatment can help a person gain control on their own."
Claudia R. Hacad is a Physiotherapist, and manager of physical therapist service on Urology Clinic at Federal University of São Paulo (Brazil). Claudia is affiliated with the BFE-Continence Team, board certified in Pelvic Muscle Dysfunction Biofeedback and a member of the International Continence Society (ICS). Claudia recently met with Dr. Beth Shelly, a leading PT from the United States at an ICS event in Argentina. They disussed the need for standardization in the educational materials being created by the federation. Going forward, Dr. Shelly and Claudia are helping to educate physical therapists in English and Portuguese by sharing the latest journal articles on Dr. Shelly's Pelvic Physical Therapy blog and Claudia Hacad's blog.
Kegel Exercises for Pelvic Floor Muscles
One of the most recognized names in the field of pelvic floor muscle training is that of Dr. Arnold Kegel. The exercises in common use today are referred to as Kegel exercises. Dr. Kegel was a gynecologist who worked at UCLA and was one of the original researchers in the field to recognize and differentiate the important functions of the pelvic floor including the sexual, sphincteric and support functions. Muscle biofeedback helps women learn how to identify and activate or relax the correct muscles to achieve a functional outcome. To learn more about these exercises follow this link to a press release with video about Dr. Glazer from a few months ago. http://www.prweb.com/releases/2012/5/prweb9554052.htm
About the BFE-Continence Team
The BFE-Continence Team is accepting affiliates that want to learn more about this field. For more information, contact greencontinence(at)gmail(dot)com. Financial support for the team comes from the Biofeedback Federation (BFE), a non-profit Community Interest Corporation located in England.
BFE Annual Conference in Poland
The next BFE Annual Conference , their sixteenth, is scheduled to take place September 11-15, 2012 in Rzeszów, Poland. Among the presenters is Dr. Marek Jantos of the Behavioural Medicine Institute of Australia who was trained by Dr. Glazer. He will be presenting on "Role of EMG in Understanding Sexual Pain Disorders".
Contact:
Carol Meyers
BFE Education Manager
education(at)bfe(dot)org