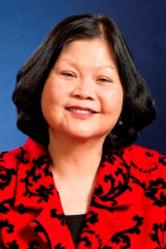 Baltimore, Maryland (PRWEB) July 30, 2012
"Our Global Family," a monthly column debuting this week by Dr. Carolyn Y Woo, president & CEO of Catholic Relief Services, will explore international social and humanitarian issues and how the global Catholic Church responds to them.
The column, which is being distributed by Catholic News Service, will draw on Dr. Woo's background as a leader in business education for more than three decades, and as a lifelong Catholic, educated by the Maryknoll Sisters in her native Hong Kong before coming to the United States for her university education. Dr. Woo has been a leader in integrating a robust Catholic faith into the everyday marketplace, including in approaches to education, business practices and, now, humanitarian work.
In her inaugural column, Dr. Woo notes that some might express surprise to see the highly successful dean of the business school at the University of Notre Dame decide to take on the presidency of one of the world's leading humanitarian organizations. Her response is that business and entrepreneurship have great power to effect positive social change.
"Hong Kong had no natural resources—no arable land, no water, no minerals or oil. Growing up there, I saw people empowered by business. They moved from poverty to wealth and brought many along with them. And I know that they also left many behind," she writes.
"So much of development work is harnessing the power of business to help the poor," she continues. "It is crucial not only to link the poor to markets, but also to equip them for success with access to knowledge, appropriate technology and capital as well as good education, health and nutrition. We understand this is the kind of development that will generate sustainable improvements. Pope Benedict reminds us in Caritas in Veritate that such potential and responsibility exist but that these can only be brought forth through the moral energies of leaders."
Please consider adding this global voice to your publication.
###
Catholic Relief Services is the official international humanitarian agency of the Catholic community in the United States. The agency provides assistance to people in need in nearly 100 countries, without regard to race, religion or nationality. For more information, please visit http://www.crs.org or http://www.crsespanol.org.