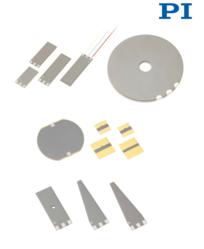 Auburn, MA (PRWEB) July 30, 2012
These ceramic actuators achieve motion to 2 mm with nanometer resolution and very fast response times in the millisecond range. They provide excellent mechanical stability, low operating voltage and can be operated at temperatures to 150°C.
More information can be downloaded at:
Applications for these PZT-ceramic bimorph elements are found in fields as diverse as medical device engineering, semiconductor manufacturing, aerospace, bio-nanotechnology and automotive.
The bimorph actuators can be factory equipped with position feedback sensors for closed-loop operation. Controllers, OEM driver electronics / piezo power supplies are also available.
The new bimorph actuators come in a variety of standard and custom shapes, from rectangular stripes to triangles, circular disks with optional aperture etc.
Compact versions with only a few millimeters in size can be produced.
The ceramic encapsulation makes them suitable for operation in harsh environments. High vacuum versions for space applications are also available.
Piezoceramic Actuator Basics:
A piezo actuator is a ceramic device that converts electrical energy into mechanical energy or motion with high precision, speed and force. There is no friction and wear involved resulting in a device with very high motion resolution and virtually unlimited lifetime.
Two basic types of piezo actuators are common: bulk / stacked / glued discrete actuators and cofired (multilayer) actuators (monolithic actuators).
PI Ceramic, Physik Instrumente's electroceramics division manufactures both types and is set up for custom designs even in smaller production runs at a competitive price.
Specifications of standard cofired bimorph benders are available here:
Contact
PI (Physik Instrumente) LP
16 Albert St.
Auburn, MA 01501
USA / Canada/Mexico:
Phone: East / Midwest: (508) 832-3456, West: (949) 679-9191
Follow PI on Twitter:
http://twitter.com/PI_Physik_Inst/