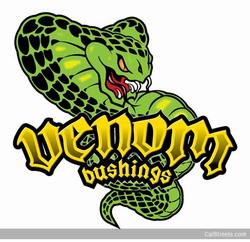 Venom gives a whole new meaning to an energy filled ride!
Annapolis, MD (PRWEB) July 31, 2012
Over the past few years, Venom Bushings have become the standard high performance bushing for longboarders all around the globe. The owner of the company, Zak Maytum is world class longboarder himself and has designed these bushing around what he knows skaters want. These new Super High Rebound (SHR) Bushings at Pure Board Shop from Venom are perfect for any skater looking to get the highest energy return coming out of a turn. These bushings are designed for skaters who like the lean and the maneuverability of a softer bushing, but demand the quick snap back of a harder bushing.
Pure Board Shop just restocked their bushing selection. You can now find every duro from 80a to 98a in double barrels, Super Carve (double tall cone), or Eliminator (stepped out barrel). These bushings will bring a life to your board that you have never felt before.
Pure Board Shop opened its doors on May of 2005. Its ease of access and parking make it a destination shop for riders and urban street ware fans alike. With their mix of products and variety in skate, snow, surf and exclusive streetwear and shoe brands Pure's customers extend far beyond their Annapolis location. Pure prides itself on making customer service its number one priority, with product knowledge and having the right product mix a close second. The store and the website feature an ever growing brand inventory such as Nike SB, Nike Snowboarding, Adidas skateboarding, Vans, Diamond, HUF, LRG, RVCA and The Hundreds, as well as a large selection of Sunglasses and other accessories. The shop also prides itself on having the largest variety of longboard equipment in the area; with brands like Land Yactz, Rayne, Caliber, Cult Wheels, Abec11 and many more. Pure puts on monthly skateboard jams/events in their local skateboard park as well as sponsors many longboard slide jams and races in the DC Metro Area.
Contact Pure at 410-267-7669 or visit them on the web at http://www.pureboardshop.com/blog