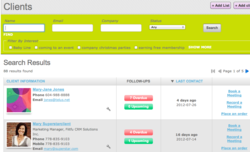 Our customers have the best suggestions...we keep getting better all the time.
Burnaby British Columbia (PRWEB) July 31, 2012
We can all get overwhelmed by the things that need to be done on a daily basis, thus accentuating the importance of utilizing a CRM Customer Relationship Management tool or CMS Customer Management System to keep track of clients and client information. There are a number of different CRM's out there on the market and it is important to not just start one, but to continue using them on a daily basis.
One of the small business CRM's that are available is called Fiitfu CRM solutions and they have just introduced two new features to enhance their system even further.
"One of our goals is to listen to our clients needs when we have our one on one tutorials with them," says Mary-Jane Mehlenbacher, CEO of Fiitfu "Our customers have the best suggestions, so this month we introduced two new features that our customers were looking for."
Fiitfu has always allowed its users to see upcoming follow ups for clients on both client portfolios but as well on their Follow Up Calendar. However, now all follow ups for the year can be seen on each client profile for quick reference without having to search through the Fiitfu Follow Up Calendar.
Fiitfu has also launched the ability to search for clients based on the date of last entry or activity within a client profile. "Fiitfu has so many ways in which you can search for clients. From first name, last name, phone number or company they work for, to status, interest, event they have been to or who they were referred by, but you can also now search for your clients based on the last time you have worked on their account," says Mehlenbacher. "We listened to our clients needs, and we are proud to introduce all the new features that we implement. We just keep getting better all the time!"
About Fiitfu: Fiitfu is a web based Customer Relationship Management program designed for Network Marketers and Small Business Owners. The focus with this software is to ensure that no client falls through the cracks again. Fiitfu which is an acronym for Fortune is in the Follow up is a tool that can be used to not only track clients, but as well enables the users to track referrals, orders, events, expenses and more! With clients in the US, Canada, Australia and the UK they are focused on enhancement of their product and growth of their client base.
Work shouldn't always about what should be done, but sometimes about what WAS done.