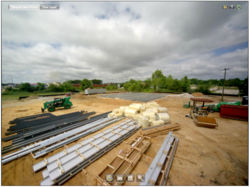 Winston-Salem, NC (PRWEB) July 31, 2012
TrueLook, a leader in construction camera and resort webcam systems, announced today a number of new hardware and service improvements. The company has introduced new high quality HD webcams at 5 megapixel and 1080p resolutions. Fixed-position cameras are now available in 720p, 1080p, and 5 megapixel resolutions. PTZ (pan-tilt-zoom) cameras are available in 720p, 960p, and 1080p resolutions.
Other service improvements and new offerings include the following:

Wide-angle lenses are now available for fixed-position cameras, allowing the cameras to capture larger areas that may have previously required a PTZ camera.
Solar-power packages have seen significantly reduced pricing.
New full-screen button within the interface will expand the webcam to fill the user's monitor.
Time-lapse playback within the interface can now toggle between 1x, 2x, 4x, 8x, and 16x speeds
Streaming video customers can now use photo albums, view time-lapses, live weather, and many other features that were previously exclusive to non-streaming cameras.
Webcams using cellular network connectivity are now optimized to load even faster. Users won't always have to wait for a new image to upload when the camera is located in poor coverage areas.
These additions are a part of TrueLook's continued commitment to provide excellent, innovative products and services to its new and existing customers. For more information about TrueLook's webcam systems, visit http://www.truelook.com/
About TrueLook: TrueLook is the world's premier interactive webcam system, specializing in construction, hospitality, event-marketing, and destination webcams. For over 15 years, TrueLook has been deploying cameras on every continent of the globe - including the NASA camera on the South Pole. This world wide network of IP-based cameras has captured over 2.2 billion media clips, delivering them to over 100 million users with a 99.999% service up-time. TrueLook has also been a pioneer in IP camera technology, having built the world's first pan/tilt/zoom (PTZ) network camera.