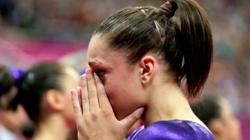 ...Weiber should have performed last as the last is supposed to be the best in the team.
Dallas, TX (PRWEB) July 31, 2012
On Sunday, the US team for the women's gymnastics was hit by a shocking qualifying result lathered with disappointment. Despite the country leading, the team's captain Jordy Weiber, failed to secure a spot in the finals. And as she and her fans get over the letdown; GreenBeanBuddy.com looked into the idea that her group's line-up cost her the top spot.
Based on the report, Weiber finished third during the qualifying round for the women's all around. The report detailed that she scored behind her two teammates Aly Raisman and Gabby Douglas. And considering that the 17-year-old world champion has only ever lost two all-around titles, her failure to compete in the finals caused a stir in the US gymnast team.
But though sobbing and unable to face the media moments after her performance, the report said that Weiber later posted a message on her twitter. As it related, the young gymnast thanked her fans on her tweet and expressed her excitement for the team finals.
Here an excerpt from the post Jordyn Weiber Won't Compete to Women's All-Around Finals by GreenBeanBuddy.com.
"Coming into the Olympics, USA's women gymnast team was with high hopes of topping the contest. But among others, eyes were on Jordyn Wieber to bring home the gold. On Sunday though, disappointment rattled the US team after Weiber fell short of securing a spot in the finals.
The 17 -year-old world champion, who only lost two all-around competitions since 2008, was knocked off the top spots by her own teammates Aly Raisman and Gabby Douglas. And because countries are limited to just two gymnasts in the all-around and event finals, by coming at third, Weiber won't have a chance to get an individual medal."
According to a separate report from usatoday.com, Bela Karolyi, the husband of team USA's current national team coordinator Marta Karolyi and a former national team coach himself, believe that there was a mistake in the team's line-up. He asserted that Weiber should have performed last as the last is supposed to be the best in the team.
However, entertainment and sports news website GreenBeanBuddy.com stated that Weiber wobbled a number of times during her performance as related by observers. Even Marta Karolyi said she wasn't as sharp, the site added. And based on those, the website commented that line-up got very little to do, if it got anything to do at all, with the 17-year-old's failure to qualify for the finals.
Read More of the Latest in Enterntainment and Sports at GreenBeanBuddy.com.