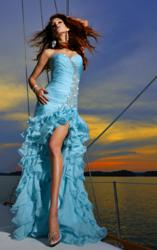 Lilburn, Georgia (PRWEB) August 24, 2012
New Year, new prom season! The new prom season has inspired Cinderella's Closet to get a full-fledged makeover! The largest renovation in the stores history will be formally unveiled at the grand re-opening and prom kickoff party, MLK weekend, Friday January 13th through Monday, January 16th. The best time to buy a new prom dress or pageant dress is now! The new streamlined ballroom provide many different options from top designers like Sherri Hill, Jovani, Tony Bowls, La Femme, Mac Duggal (Cassandra Stone), House of Wu (Tiffany), Night Moves, Mori Lee, and more who have brought some unbelievable fashions for Prom 2012 that will be available exclusively in the boutique for purchase. More dresses call for more dressing rooms which will be available in every room of the store for your shopping convenience. Expanding the store into a beautiful, new spacious room has doubled the space leaving room to showcase the newest exciting venture: cupcake pageant dresses! Popular designers like Party Time, Sherri Hill, and Unique Fashions just to name a few are now available in an assortment of colors, sizes, and styles. The new room is divided by two sides, one being any little girl's dream playhouse carrying not only dresses but hair, jewelry, and other accessories like nail polish, lip gloss, robes, slippers by Molly and Me, and cute little plush animal stuffed purses by Douglas that are great gift and personal items. The other side of the room carries a plethora of trendy short, homecoming and prom dresses, as well as shoes like the new line of Helen's Heart Shoes including glitzy sequin detailed cowboy boots that would look great with a short dress or jazz up any casual outfit. Helen's Heart also offers fabulous prom and pageant heels as well as Jonathan Kayne. New intimate brands to the store consist of bras and corsets by Carnival bras, sleepwear by Ravissante, and Hanky Panky with their new undergarment line including thongs, briefs, bras, boxers, and robes. Julie France body shapers now carry panty shapers, tank top shapers, support bras, and legging shapers available for any problem area of the body while Cinderella's increases the inventory of customer favorites like Spanx.
Cinderella's Closet continues to branch out with a new, exciting venture of bath and body products by Caren Original including a host of wonderful body products including lotions, body washes, hand sanitizers, lip glosses, chap sticks, and hand and face creams to leave you with a healthy, radiant glow to complement your beautiful new dress. They also carry the revamped line of Hollywood Secrets including oil blotting tissues, bust straps, bra converting clips, compact light up mirrors, and much more adding to their popular Hollywood fashion tape perfect for those fashion fixes on the go. More specialty and gifting options available at Cinderella's Closet are Piggy Pillows foot inserts, Scandalous memory foam slippers and flip flops with Swarovski crystals, and Red Foot's folded flats.
While the revamp of the store is new one thing that has not changed is the outstanding customer service that the Cinderella's Closet staff has continued to bring since the doors first opened in 1994. Since then Cinderella's has been a staple in the prom and pageant industry even supplying some of the winning dress designs that the pageant participants on local and national levels have been seen receiving their designated crown in. Outside of pageants, Cinderella's Closet specializes in formal wear for prom, homecoming, Quinceanera, and many other special occasions. With a convenient location right off 85 N Beaver Ruin Road in Lilburn, GA and spacious building with wall to wall merchandise everything is easily accessible and easy to locate. Find a head to toe look with dresses ranging from petite to plus size, shoes, accessories, pageant swimwear, beauty products, gifts, and more! While shopping there is always a friendly and knowledgeable staff member available to help. Come out to the grand re-opening and prom kickoff party all MLK weekend, Friday January 13th through Monday, January 16th to see for yourself what the buzz is all about! Located at 700 Beaver Ruin Road, Lilburn, GA, about a mile west of Lawrenceville Highway, Cinderella's Closet is open extended hours for the Prom Season: Monday- Friday 10 to 8 p.m. and Saturday 10 a.m. to 6 p.m and Sunday 12 to 6 p.m.. Cinderella's Closet is the prom store in Atlanta. Call the store at 770-921-8474 or visit http://www.cinderellasgowns.com for more information on the events and gowns for pageants, proms and dances.