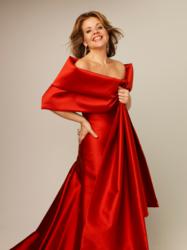 Baltimore, Md. (PRWEB) August 08, 2012
Heralding the start of the social season, the Baltimore Symphony Orchestra will hold its annual Celebration Gala on Saturday, September 15 at 8:30 p.m. at the Joseph Meyerhoff Symphony Hall. Led by BSO Music Director Marin Alsop, the Gala concert features legendary soprano Renée Fleming performing favorites from her operatic repertoire, including Puccini's "O mio babbino caro" from Gianni Schicchi, "Vissi d'arte, vissi d'amore" from Tosca and Dvořák's "Song to the Moon" from Rusalka. She also performs selections by the great musical theater composer/lyricist team Rodgers & Hammerstein. Please see below for complete program details.
In keeping with Marin Alsop' and the Baltimore Symphony Orchestra's commitment to serving and including the community, the legendary soprano will also share the stage with students from the BSO's OrchKids program. OrchKids is the BSO's music-in-schools program that currently provides 600 elementary students with music lessons, tutoring and nutritious meals.
The BSO's Celebration Gala is chaired by longtime BSO supporters Robert E. Meyerhoff and Rheda Becker and is the organization's largest and most important fundraising event of the year. It raises funds to support the Orchestra's educational outreach programs in Baltimore and throughout Maryland. The Celebration Gala treats patrons to an evening of entertainment and fine dining provided by Classic Catering. Pre- and post-concert gala festivities will take place in a grand event tent located just outside of the Meyerhoff.
MARIN ALSOP, conductor
Hailed as one of the world's leading conductors for her artistic vision and commitment to accessibility in classical music, Marin Alsop made history with her appointment as the 12th music director of the Baltimore Symphony Orchestra. With her inaugural concerts in September 2007, she became the first woman to head a major American orchestra. She also holds the title of conductor emeritus at the Bournemouth Symphony in the United Kingdom, where she served as the principal conductor from 2002-2008, and is music director of the Cabrillo Festival of Contemporary Music in California.
In 2005, Ms. Alsop was named a MacArthur Fellow, the first conductor ever to receive this prestigious award. In 2007, she was honored with a European Women of Achievement Award, in 2008 she was inducted as a fellow into the American Academy of Arts and Sciences and in 2009 Musical America named her "Conductor of the Year." In November 2010, she was inducted into the Classical Music Hall of Fame. In February 2011, Marin Alsop was named the music director of the Orquestra Sinfônica do estado de São Paulo (OSESP), or the São Paulo Symphony Orchestra, effective for the 2012-13 season. Ms. Alsop was named to Guardian's Top 100 Women list in March 2011. In the spring of 2011, Marin Alsop was named an Artist-in-Residence at the Southbank Centre in London, England.
A regular guest conductor with the New York Philharmonic, Philadelphia Orchestra, London Symphony Orchestra and Los Angeles Philharmonic, Ms. Alsop appears frequently as a guest conductor with the most distinguished orchestras around the world. In addition to her performance activities, she is also an active recording artist with award-winning cycles of Brahms, Barber and Dvořák.
Marin Alsop has led Baltimore Symphony Orchestra in several key outreach initiatives. In 2008, she partnered with the BSO to launch OrchKids™, a music education and life enrichment program for youth in West Baltimore. In 2010, she conducted the first "Rusty Musicians with the BSO" – an event that gave amateur musicians the chance to perform onstage with a professional symphony orchestra and quickly became a popular component of the BSO's efforts to connect with the community. In June 2010, Maestra Alsop conducted the inaugural BSO Academy – an immersive summer music program that gives approximately 100 amateur adult musicians the opportunity to perform alongside a top professional orchestra.
Marin Alsop attended Yale University and received her master's degree from The Juilliard School. In 1989, her conducting career was launched when she won the Koussevitzky Conducting Prize at Tanglewood where she studied with Leonard Bernstein.
RENEE FLEMING, soprano
One of the most beloved and celebrated musical ambassadors of our time, soprano Renée Fleming captivates audiences with her sumptuous voice, consummate artistry, and compelling stage presence. Known as "the people's diva" and named the number one female singer by Salzburger Festspiele Magazin in 2010, she continues to grace the world's greatest opera stages and concert halls, now extending her reach to include other musical forms and media. Over the past few seasons, Ms. Fleming has hosted a wide variety of television and radio broadcasts, including the Metropolitan Opera's Live in HD series for movie theaters and television, and Live From Lincoln Center on PBS.
As a musical statesman, Renée Fleming has been sought after on numerous distinguished occasions, from the 2006 Nobel Peace Prize ceremony to performances in Beijing during the 2008 Olympic Games. In January 2009, Ms. Fleming was featured on the televised We Are One: The Obama Inaugural Celebration at the Lincoln Memorial concert for President Obama. In 2012, in an historic first, Ms. Fleming sang on the balcony of Buckingham Palace in the Diamond Jubilee Concert for HM Queen Elizabeth II. Ms. Fleming has also performed for the United States Supreme Court and, in November 2009, celebrated the 20th anniversary of the Czech Republic's "Velvet Revolution" at the invitation of Václav Havel. An additional distinction was bestowed in 2008, when breaking a precedent, Ms. Fleming became the first woman in the 125-year history of the Metropolitan Opera to solo headline an opening night gala.
A three-time Grammy winner, Ms. Fleming won the 2010 Grammy Award for Best Classical Vocal Performance for Verismo (Decca/September 2009), a CD featuring a collection of rarely heard Italian arias. In June 2010, Decca and Mercury records released the CD Dark Hope, which features Ms. Fleming covering songs by indie-rock and pop artists. Recent DVD releases include Massenet's Thaïs and Rossini's Armida, both part of the Metropolitan Opera Live in HD series, and Verdi's Traviata, filmed at London's Royal Opera House. Ms. Fleming's 2010 DVD Renée Fleming & Dmitri Hvorostovsky: A Musical Odyssey in St. Petersburg follows Ms. Fleming and baritone Dmitri Hvorostovsky to Russia, where they explore and perform in some of St. Petersburg's most historic locations. In recent years, this thirteen-time Grammy nominated artist has recorded everything from Strauss's complete Daphne to the jazz album Haunted Heart to the movie soundtrack of The Lord of the Rings: The Return of the King. Her recording honors range from the 2009 Echo Award for Strauss' Four Last Songs to the Prix Maria Callas Orphée d'Or by the Académie du Disque Lyric for TDK's DVD production of Capriccio. In February, 2012, Ms. Fleming received the Victoire d'Honneur, the highest award conveyed by the French Victoires de la Musique.
Ms. Fleming is a champion of new music and has performed works by a wide range of contemporary composers, including recent compositions by Henri Dutilleux, Brad Mehldau, André Previn, and Wayne Shorter. Among her numerous awards are the Fulbright Lifetime Achievement Medal (2011); Sweden's Polar Prize (2008); the Chevalier de la Légion d'Honneur from the French government (2005); Honorary Membership in the Royal Academy of Music (2003); and Honorary Doctorates from the Eastman School of Music (2011) and The Juilliard School (2003), where she was also commencement speaker.
An advocate for literacy, Renée Fleming has been featured in promotional campaigns for the Association of American Publishers (Get Caught Reading), and the Magazine Publishers of America's READ poster campaign for the American Library Association. She was honored by The New York Public Library as a "Library Lion." Her book, The Inner Voice, was published by Viking Penguin in 2004, and released in paperback by Penguin the following year. An intimate account of her career and creative process, the book is also published in France by Fayard Editions, in the United Kingdom by Virgin Books, by Henschel Verlag in Germany, Shunjusha in Japan, and by Fantom Press in Russia.
Ms. Fleming is currently a member of the Board of Trustees of the Carnegie Hall Corporation, the Board of Sing for Hope, and the Advisory Board of the White Nights Foundation of America. In 2010, she was named the first ever Creative Consultant at Lyric Opera of Chicago. She is currently curating the creation of a world-premiere opera based on Ann Patchett's best-seller Bel Canto for Lyric Opera's 2015-2016 season.
GALA CELEBRATION
Gala Celebration Concert
Saturday, September 15, 2011 – Joseph Meyerhoff Symphony Hall (JMSH)
The Celebration Gala is a black-tie event.
6:30 p.m.—Gala Celebration, with dining and entertainment—Gala Tent
7:30 p.m.—Doors open for Gala Concert—Joseph Meyerhoff Symphony Hall (JMSH)
8:30 p.m.—Gala Concert featuring soprano Renée Fleming—JMSH
9:45 p.m.—VIP Post-concert party and desserts with BSO Artists—Gala Tent
Tickets for the Gala Celebration are available individually or in sponsor groups of 10. For more information or to purchase tickets for the Gala Celebration, contact the BSO Development Department at 410.783.8054.
GALA CONCERT
Saturday, September 15, 2011 at 8:30 p.m. – JMSH
The Gala Concert is black-tie optional.
Marin Alsop, conductor
Renée Fleming, soprano
Program to Include:
STRAUSS: Waltz Sequence No. 1 from Der Rosenkavalier, TrV 227, op.59
O. STRAUSS: "Je t'aime quand meme" from Trois valses
DVORAK: "Song to the Moon" from Rusalka
PUCCINI: "O mio babbino caro" from Gianni Schicchi
PUCCINI: "Vissi d'arte, vissi d'amore" from Tosca
OrchKids Special Feature
GINASTERA: "Danza Final" from Estancia: Four Dances
RODGERS&HAMMERSTEIN: "Hello Young Lovers" from The King and I
RODGERS&HAMMERSTEIN: "Wonderful Guy" from South Pacific
RODGERS&HAMMERSTEIN: "You'll Never Walk Alone" from Carousel
Editor's Note: Additional repertoire may be announced at a later date.
Tickets for the Gala Concert are $50, 75 and $100 and are available at the BSO Ticket Office, 410.783.8000 or BSOmusic.org.
###