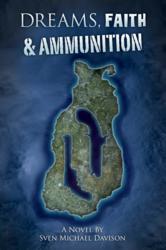 Strang was the only man coronated as a King in the history of our country.
Los Angeles, CA (PRWEB) August 06, 2012
With campaign ads and stump speeches crashing into our homes until November 6, curiosity about the faith of one potential leader of the free world arises from time to time. Mormonism is less than two hundred years old and grew during a time when Americans were seeking alternative ways of practicing faith. After Joseph Smith's death in 1844, the Mormon Church was in turmoil until Brigham Young led the majority of his flock to Utah. But there were others who followed a different prophet by the name of Strang. Davison's novel, "Dreams, Faith & Ammunition," spends a third of its time documenting the trials and tribulations of those who followed Smith, and then James Jesse Strang to find a Kingdom on Earth on an island in northern Lake Michigan known as Beaver.
"I read many historical books and records on James Strang," says the book's author Sven Michael Davison. "To my knowledge, Strang was the only man coronated as a King in the history of our country." Strang led hundreds of Mormons north as Young led thousands west. Strang served in the Michigan legislature while ruling his flock on Beaver Island and was tragically assassinated in broad daylight in front of dozens of witnesses including the crew of a US warship. No one was ever prosecuted for the crime even though the killers were well documented. It was a time of turmoil for the citizens of the United States. "There were plenty of distractions. Harpers Ferry occurred shortly afterward and that event was one of the factors that led to the outbreak of the Civil War. There was plenty of mistrust among neighbors. Hard to believe how Americans could kill fellow Americans but my book offers more insight on that mind-set while giving an account of a lesser known Mormon offshoot."
"Dreams, Faith & Ammunition" is part historical fiction, part memoir. Two men, three timelines, one location; "Dreams, Faith & Ammunition" is a story about seeking the Promised Land. In the nineteenth century one man seeks it literally, first by following Joseph Smith and then James Strang, to build a Kingdom of God on earth. In the twentieth century, another man envisions the Promised Land as the rewards and lifestyle he will achieve once he finishes his great American novel.
Both men move to Beaver Island, Michigan to fulfill their ideals. Both men face unforeseen obstacles and must overcome personal demons in their journey of faith and suicidal depression.
"Dreams, Faith & Ammunition" is being released slowly as part of a grassroots campaign. It is currently available exclusively on Kindle Direct Publishing. It's first on-line review was posted in July: "Dreams, Faith and Ammunition is a deeply moving work… that I couldn't put down." D. Welch
Davison is an award-winning author living with his wife and son in the Los Angeles area. "Dreams, Faith & Ammunition" his is his third novel. "State of Union," the sequel to Davison's "State of Mind," is still on track for release in late fall of this year. The third installment of the "God Head Trilogy" will be released in the early spring of 2013. That title will be announced around the time "State of Union" is published.
For more information visit http://stateofmindbook.com/author-DFAS.php