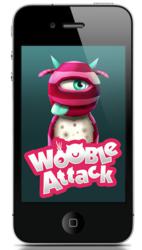 We've evolved from a weather app and a photography app to a mobile game. Through this advancement we once again pushed the boundaries of our expertise and created a novel and creative product.
Princeton Junction, NJ (PRWEB) August 03, 2012
Local Wisdom, the maker of the Weatherwise and Photomash mobile apps, today announced the launch of its latest mobile game, Wooble Attack.
The mobile game features characters called Woobles that players must tap or swipe to defeat and continue the game. The Woobles, who first appeared in the Weatherwise app in the Woobles Theme, add personality to the game through the use of a diverse and evolving set of character animations. Each Wooble has different abilities that thwart players who try to keep them at bay in order to progress through the game, achieve higher scores, and earn coins for in app purchases. Players can select from a timed version or a standard survival version to fit their needs and skill level.
Wooble Attack is available for free to all iPhone and iPad users and comes with a standard set of Woobles. As players advance in the game and collect coins, they have the ability to use these coins to purchase game advancements like new skins or power ups. These items are also available for purchase without the use of the game's coins.
"Wooble Attack shows the breadth and sheer talent of our team," said Local Wisdom Vice President, Shawn Venkat who oversees the R&D team. "We've evolved from a weather app and a photography app to a mobile game. Through this advancement we once again pushed the boundaries of our expertise and created a novel and creative product."
Unlike traditional tap-and-hit style games, Wooble Attack incorporates new techniques and degrees of difficulty. The user can use a swipe and chain technique to link together and defeat like-colored Woobles. This technique allows players to earn higher points than they would if they defeated a singular Wooble using the traditional tap method.
Creative Director, RJay Haluko, describes Wooble Attack as "a fun, easy-to-use game that is appropriate for users of all ages." Haluko notes that the Woobles "work great to keep your child occupied but have enough depth and challenge to keep an adult entertained."
Wooble Attack is the third mobile application developed by Local Wisdom and is the product of the company's R&D department led by RJay Haluko, Creative Director. The team utilized 3D video game engine, Unity 3D to create the Wooble Attack characters and game elements. With the learned knowledge from this experience, Local Wisdom is now equipped to build full-fledged 3D video games for mobile devices, desktop computers, and video game consoles such as Playstation, Xbox, and Wii.
To learn more about Wooble Attack, visit http://www.woobleattack.com. Check out what people are saying about the app on Facebook at facebook.com/WoobleAttack and tweet your scores on Twitter @WoobleAttack. To download Wooble Attack, visit the Wooble Attack page on iTunes.
About Local Wisdom Labs
Founded in 2011, Local Wisdom Labs was built as a creative outlet for employees, an inspiration for clients, and to expand the overall company expertise, all while fueling the passion for digital. The results include: Weathwise, a reimagined mobile weather app; Photomash App, a photo app that lets users remix their images; and Wooble Attack, a mobile twist to a classic arcade game. To find out more, please visit http://www.LocalWisdom.com/labs.
About Local Wisdom
Founded in 1999, Local Wisdom is a digital agency headquarted in Princeton Junction, NJ specializing in architecture, design, development and curation of Internet and Intranet sites, web applications and mobile apps. Delivering custom, digital solutions that drive business growth, Local Wisdom's roster of clients include Johnson & Johnson, ELS Educational Services, Purdue Pharma L.P., Janssen Pharmaceuticals, Inc., and other Fortune companies. To learn more about Local Wisdom, visit http://www.localwisdom.com.