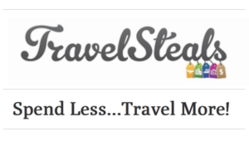 I needed one source to see them all and one email a day that simply reminds me to check out what's being offered
Reston, Virginia (PRWEB) August 01, 2012
TravelSteals.com joins the flash sale craze by launching the first flash sale aggregator dedicated to promoting deeply discounted travel deals. Spontaneous travelers are looking for discounts that allow them to travel more and spend less. TravelSteals is improving the process of browsing daily travel deals and gives consumers the opportunity to save time as well as money.
The lack of preferences, targeting, and an overwhelming number of daily emails, has given daily deal sites a bad reputation amongst consumers. Each site typically sends between one and three emails to each customer a day. Customers are learning to tune out the daily emails from flash sale sites and that'll continue until these sites focus more on preferences, personalization, and the ability to match deals with purchase history.
The owner of TravelSteals.com said, "I signed up for dozens of these sites and get hammered with emails that often don't apply to me. The number of emails I delete each day without opening is growing. I needed one source to see them all and one email a day that simply reminds me to check out what's being offered".
Aggregators like Yibit.com, RetailFetish.com, and TravelSteals.com, have become popular with consumers that want to clean up their email inboxes. They allow consumers to cut down on the number of emails that reach them without having to miss out on the daily deals offered by the hundreds of flash sale sites. By allowing visitors to filter deals by store, destination, and price, aggregators give consumers the ability to browse deals from several sites quickly. If a deal catches their attention, they are given a direct link to view that deal on its respective store.
TravelSteals believes that there is an opportunity to syndicate these daily deals without overwhelming consumers with multiple emails from each store. Discount travel sites should join forces with aggregators in order to provide a one-stop-shop for consumers looking to browse flash sales online. The site promotes healthy competition that gives consumers more variety, a smoother shopping experience, and less email in their inboxes.
TravelSteals is committed to becoming a tool for consumers and a marketplace for flash sale sites that offer cheap travel deals. TravelSteals.com is a member only service that is free to use, but requires registration. The registration process allows the site to personalize email campaigns and is dedicated to sending a single email to each customer a day as a reminder to not miss out on the day's travel sales.
###