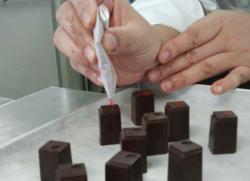 Tempering is the most important building block of chocolate work and you'll know exactly what to do to achieve perfect temper once you finish the course.
(PRWEB) August 01, 2012
Chocolate aficionados and home chocolate artisans please note: Ecole Chocolat Professional School of Chocolate Arts now offers the Chocolate Technique and Flavor Stream as part of the Professional Chocolatier Program
"The Chocolate Technique and Flavor Stream is an option in our school's Professional Chocolatier Program. You have access to the whole curriculum including all instruction on professional chocolate techniques but have the choice to not work on the business-focused assignments. You'll get the same intensive learning experience, but you'll be able to spend more time in recipe development and practice," says Ecole Chocolat Lead Instructor and school Founder Pam Williams.
The Professional Chocolatier Program runs from August 10 to November 9, giving participants a chance to learn to make professional-quality chocolates in time for the holidays. "Imagine the possibilities for wonderful gifts or for serving to friends and family at holiday gatherings," Williams says. Summer vacation plans are not a problem as the school is accustomed to working around student travel schedules.
Dozens of successful chocolatiers around the world have taken the professional program since its inception in 2003, a testament to the program's high professional standards and depth of instruction. "You can learn about some of the fabulous chocolates produced by Ecole Chocolat graduates who are featured in publications such as Oprah Magazine, InStyle and Martha Stewart Living at our website's Ecole Chocolate Graduates page," she says.
Participants will be able to develop a shopping list of chocolate-making suppliers for all ingredients and equipment and learn the science of chocolate crystallization, something they'll need when they practice different tempering techniques, she says, adding: "Tempering is the most important building block of chocolate work and you'll know exactly what to do to achieve perfect temper once you finish the course. Our curriculum is constantly updated, so you'll be getting the latest on every subject."
Learning about the physiology of taste is another aspect of chocolate making that will help home chocolate artisans to understand the chemistry of chocolate and what determines its flavor and texture, leading you to create your own terrific chocolate recipes.
They'll review modern decorating techniques and get step-by-step instruction for experimenting and practicing in preparation for recipe development.
With the online help of Ecole Chocolat's teachers, who are all professional chocolatiers – as well as numerous photos and selected videos demonstrating proper technique – students begin working with chocolate in their own kitchen as they learn the hands-on skills of tempering, dipping, decorating and molding, all with the goal of producing a consistent gourmet chocolate.
There is no set time during the program when participants have to be online – they study, research and practice on their own schedule. "Our students come from all over the world so we can't schedule timed activities such as synchronous webcasts or chats, as someone will need to be up in the middle of their night in order to participate, which isn't fair," says Williams.
So plan to unleash that creativity by making gorgeous chocolates that have great taste and eye appeal, Williams says. "Be able to position yourself as an expert in chocolate with family and friends. And never lose your temper again!"
Founded in 2003, Ecole Chocolat Professional School of Chocolate Arts offers a portfolio of programs for chocolate making – mastering techniques while gaining the expertise and business knowledge needed to become a professional chocolatier or chocolate maker. Ecole Chocolat's founder Pam Williams is the recipient of the Award of Excellence in Service to the Industry from the Fine Chocolate Industry Association. See our website: http://www.ecolechocolat.com