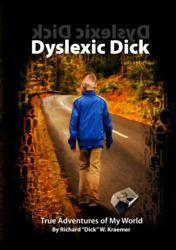 I went through life thinking that I suffered from a bad case of stupidity. But, now this problem has a name-Dyslexia.
Woodbury, NY (PRWEB) August 02, 2012
What did others say about Dyslexic Dick - True Adventures of My World?
The Midwest Book Review says, "Dyslexic Dick" is a fine look into the impact of Dyslexia, and how its problems are more pronounced than many believe.
Kathleen DeClerck, (Goshen, NY) I laughed out loud! I enjoyed Richard's stories. I laughed out loud so many times! I was so impressed given this was his first book. My 16 year old read it and is doing a book report on this for her English class. I recommended it to my mother and she enjoyed it. Its a rare book that speaks to 3 generations. Its a human story and it is great to see someone use humor to get through lifes challenges. Cant wait for the next book!
J. Wood (New York, NY) Couldn't put the book down! I'm not normally a fast reader but I read through this book so fast to find out what Dick was up to next. He had quite a few "incidents" growing up that will make you laugh or shake your head in disbelief that this is happening. Yes, Dick had challenges but he gets through them and tells his story with a nonending sense of humor. You will find yourself pulling for Dick throughout his struggles and cheering for his accomplishments along the way. I can't wait for his next book!
Sean Gannon (New York, NY) A must read! Rich's book was a great read. I read it in one day. I could not put it down because ...what was going to happen next. It was laugh out loud funny. My wife wants to read it next. Brought back many memories of growing up and growing up dyslexic. His sense of humor about how he grew up with his challenge is great. A great read. Can't wait for his next book!
The book, Dyslexic Dick – True Adventures of My World, is available now on Amazon.com, both in E-book and paperback versions. In addition, the paperback is exclusively available locally in Warwick at the Ye Olde Warwick Book Shoppe and Public Libraries in the lower Orange County area. During the month of August, you will be able to download the E-book for FREE from Amazon, see the book's website for details at http://www.dyslexicdick.com/ The next volume of the Dyslexic Dick series is due out in the spring 2013.