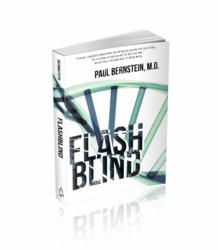 Los Angeles, California (PRWEB) August 01, 2012
Dr. Paul Bernstein will be introducing his newest, controversial release, "Flashblind," in La Jolla, discussing the grim truth behind the work of fiction, as revealed in his extensive research via the Freedom of Information Act (FOIA).
"Flashblind," a medical thriller, brings to light the actual history of government sponsored radiation experiments on American citizens throughout the atomic age. Funded by the US Department of Energy--the same agency responsible for testing nuclear bombs--carefully guarded genetic research experiments were done in secret for decades.
Award-winning author and medical director for Kaiser Permenente in San Diego, Dr. Paul Bernstein will discuss this new and highly acclaimed novel, "Flashblind," at a book signing on Sunday, August 5, from 12 p.m. to 2 p.m. at Warwick's at 7812 Girard Avenue, La Jolla.
"Flashblind" builds upon information Dr. Bernstein uncovered by FOIA requests to various government entities while performing educational research for the medical community. The facts he uncovered quickly revealed themselves to be dramatic and shocking enough for fiction, and the novel "Flashblind" was born. While an entertaining read in its own right, the book also serves to educate readers about the real history of radiation experiments and the conspiracy behind their decades-long cover-up.
The novel begins as the race for the genetic holy grail, the cure for cancer, is on. World-renowned geneticist, Jake Holden, has less than a month to complete his research that will save his brother. Jake is mired in a government conspiracy and pitted against a multibillion-dollar pharmaceutical conglomerate. Big Pharma wants to patent the cure. A trillion-dollar drug. Jake wants the cure for his brother and the public good.
"Flashblind" asks many questions that many Americans would want answered: How far would our government go to win a nuclear war, and would they allow thousands to die each year from cancer as part of a conspiracy of secrecy?
Beginning with the Manhattan Project and based on the proceedings of the US Commission on Human Radiation Experiments, Flashblind follows one family's struggle to survive a modern day government and big pharma conspiracy. The greatest scientific race of modern time has the potential to either cure or kill.
For more information please contact the author at paulbernstein(at)flashblindnovel.com. "Flashblind" is published by ZOVA Books in Los Angeles, California.
About the author:
Paul Bernstein, MD, author of the acclaimed novel, Courage to Heal, is a Head and Neck Surgeon and the Medical Director for Kaiser Permenente, the largest medical group in San Diego. In addition to being the former Chair of the Head and Neck division of the American Cancer Society, he has appeared on CBS, CNN, Fox, NBC and local media outlets as a medical expert.