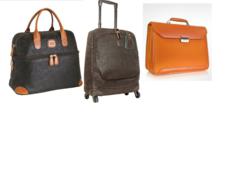 Brics has launched a "Life 60 Anniversary Collection"
Kent (PRWEB UK) 1 August 2012
Bric's is a family run business established in Como, Italy in 1952 and travellers then came from all over Europe to Como to buy this hand crafted hardwearing bag that would last for a very long time. The brand became known as one for style, longevity and class that stood out among the crowd. It is now known as Italy's finest in quality and this has caught on internationally.
At present , Bric's has kept it's traditional quality and expanded its range to Trolley cases, Holdalls, wash bags, Garment Carriers, Briefcases and many more . Its craftsmanship is still easy to see among any other brand and the finest materials are still chosen to create its cases, like the weather resistant micro suede and vegetable-tanned leather. These cases are easy to clean without fade or deterioration in material, something that is still rare to find.
Brics has launched a "Life 60 Anniversary Collection" to mark their time in history of 60 years. These limited edition travel pieces are available directly from Italy from the end of July and can be ordered via Luggage Superstore's order line 01474 854666. These pieces would be appreciated by anyone who has experienced and valued a bag manufactured by Bric's and wishes to add to their treasured Bric's collection.
Bric's has continued to live up to its reputation and their luggage is built to withstand the test of time. Bric's still offers beauty and functionality, an ideal sought after by many travellers.
Luggagesuperstore established site is in West Kingsdown, Kent. Their aim is providing competitive prices of the highest quality luggage and top calibre Customer Service for online luggage shopping.
Trina Chee-a-kwai
Luggage Superstore
01474 854666
Email information