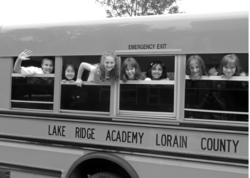 North Ridgeville, OH (PRWEB) August 02, 2012
On August 15, 2012 from 8:00 am - 1:00 pm, Lake Ridge Academy will be hosting sixty eight North Ridgeville School Bus Drivers for an extensive Bus Driver training class. They will be covering school bus driving procedures, school bus pre-trip inspection and proper use of a fire extinguisher on a Diesel fuel fire.
The fire training portion will be held in the east parking lot with the watchful eye of the North Ridgeville Fire Department along with the North Ridgeville Police Department. A pumper and crew will be on site. The fire training should commence about 10:00 am. The instructors will be inspecting a bus with hidden defects to test the bus drivers. "This should be an exciting event and a first time opportunity for some of the drivers," says Norm Miller, Director of Transportation at Lake Ridge Academy.
Lake Ridge Academy is honored to be running this training session for the city of North Ridgeville.