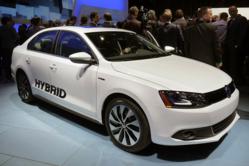 The Jetta Hybrid will please Volkswagen customers, because it's sporty and environmentally-friendly without breaking the bank
Tucson, Arizona (PRWEB) August 01, 2012
One of the most anticipated model introductions this year is the 2013 Volkswagen Jetta Hybrid. The new Jetta will be powered by a turbocharged 1.4-liter four-cylinder engine that makes 150 horsepower, an electric motor that produces 27 horsepower and a DSG seven-speed automated manual transmission. Together, the electric motor and gasoline engine make 170 horsepower.
The EPA hasn't released fuel economy figures yet, but Volkswagen predicts it will get 45 mpg combined. The 1.1-kWh battery pack powers the electric motor that can be found behind the rear seat. The entire unit is fan cooled and weighs 80 pounds. Similar to the gas-electric Volkswagen Touareg, the Jetta's hybrid system uses the clutch to decouple the gas engine from the drivetrain. The system shuts off the engine and the car functions solely on electricity at speeds up to 84 mph.
"The Jetta Hybrid will please Volkswagen customers, because it's sporty and environmentally-friendly without breaking the bank," said Chapman Volkswagen of Tucson General Manager Neb Yonas.
The fuel-economy numbers that Volkswagen estimates puts the Jetta Hybrid in front of the 2012 Honda Civic Hybrid which comes in at 44-mpg combined. The new Jetta is also the quickest hybrid in the class, with a 0-60 speed of less than nine seconds. With a curb weight of less than 3310 pounds, the acceleration speeds are comparable to the gas-powered Volkswagen Jetta. The dealership expects the range-topping Jetta to be priced somewhere between $20,000 and $25,000 when it goes on sale this fall.
A quick look at the Jetta Hybrid and visually it fits in with the rest of the Volkswagen family but with a few quirks. The front air dam, rear diffuser and spoiler were modified to be more aerodynamic and results in a 10 percent reduction in drag. The wheels are unique 15-inch wheels and the grille, front fenders, and the trunk all have a hybrid badge. The interior is standard for Volkswagen, but with the addition of a power meter and multifunction display. The cabin should be much quieter due to the new exhaust system and upgraded acoustic glass for the windshields.
Chapman Volkswagen Tucson customers will have the choice of three trim levels for the 2013 Jetta Hybrid. All three levels include standard features such as Bluetooth, LED taillights, and satellite radio. Some additional equipment that will be available for upgrade includes: xenon headlights, LED running lights, a power driver's seat, navigation, a rear camera, and VW's Fender audio system.
"What sets the Jetta Hybrid apart from the competition is its fun-factor and its ability to get up to highway speed quickly. For customers who value having fun behind the wheel as much as fuel efficiency, the Jetta Hybrid is a perfect fit," said Yonas.
Visit http://www.tucsonvw.com for more information on the Jetta Hybrid and new and used Volkswagen models.