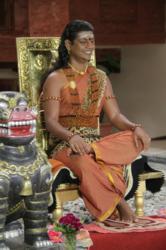 There is no key to bliss. The door is always open!
Los Angeles, CA (PRWEB) August 17, 2012
Paramahamsa Nithyananda shared some unique insights with followers across the world during the daily morning satsang session via 2-way video conferencing and on Nithyananda TV.
A question from a devotee was as follows: 'India has been taken by surprise by the recent development of a large number of Hindus declaring their wish to stay on its soil after crossing over from neighboring countries. Swamiji, can you please comment on this phenomenon?
Paramahamsa Nithyananda answered by saying, 'The Vedic civilization has so much concern for life and for human beings that it acts as a sanctuary not only for Hindus, but for the persecuted members of any religion. This extraordinary compassion and philosophical strength is the unique spiritual quality of Bharat, India. India is not just a geography, it is a philosophy. True patriotism towards India should include protecting India's philosophy, which can directly save humanity.
'I am not supporting patriotism as a morality, but patriotism based on spiritual understanding. Our dedication will protect the world's most compassionate, non-violent spiritual philosophy, which will be a service to humanity itself. This is really the need of the hour.'
For a playlist of talks on vedic tradtion by;His Holiness Paramahamsa Nithyananda
http://www.youtube.com/user/LifeBlissFoundation/videos?query=vedic
For a discourse on the science of enlightenment: http://www.youtube.com/watch?v=ty1DtDKt-08&feature=plcp
For the Secrets of Nithya Yoga : http://www.youtube.com/watch?v=egrpyAXHNpA&feature=plcp
The Sacred Secrets of Patanjali Yoga Sutras: http://www.youtube.com/user/LifeBlissFoundation/videos?sort=dd&query=patanjali&view=0&page=2
About His Holiness Paramahamsa Nithyananda:
Paramahamsa Nithyananda is a global spiritual leader in the pure Vedic science of yoga, meditation, kriyas, kundalini awakening, enlightenment & Inner Awakening, levitation, teleportation & materialization. Clear, dynamic and modern in approach, Nithyananda's teachings have already transformed 15 million followers in 150 countries with the fastest growing spiritual community around the youngest incarnation. Over 2000 hours of discourses are on http://www.youtube.com/lifeblissfoundation. Revered as a living avatar (divine incarnation) by millions worldwide, Paramahamsa Nithyananda is the most searched for spiritual teacher on the internet with more than14 million views. He is also the author of more than 300 books published in 27 languages.
His Holiness Paramahamsa Nithyananda was recently appointed as the successor and 293rd pontiff of the world's oldest most ancient and richest Hindu organization, Madurai Aadheenam. Earlier this year he was recognized as one of the world's top 100 most spiritually influential personalities of 2012 by the reputed esoteric magazine 'Mind Body Spirit' from Watkins.
In the past ten years attempts have been made to map Nithyananda's brain, his energy levels, his mitochondria, his DNA. The scientific fraternity is continuously stunned by the results of what they can evaluate.
Through cutting edge research in Yogic sciences using modern neuro psychology, medicine and quantum physics, Paramahamsa Nithyananda has offered potent Kriyas for more than 108 mental & physical disorders.
Paramahamsa Nithyananda is known for his extraordinary healing powers, curing most diseases ranging from cancers, diabetes, hypertension, depression, obesity and other psychosomatic diseases, right from the root level often with one touch or initiation.
The young enlightened Master Paramahamsa Nithyananda's meteoric rise by untiringly helping humanity to raise in consciousness, invited the ire and jealousy of few vested interests in the Indian media. He became a target of a vicious religious persecution followed by a media frenzy in the wake of the circulation of a defamatory fake scandal video, which was declared to be morphed by the four leading forensic experts and labs in US.
Paramahamsa Nithyananda remains always grateful to the spiritual masters and the rich spiritual heritage of India which made it possible for him to learn and practice these timeless spiritual truths. Dedicating his life to the service of humanity, he continues his public life to reveal to the world, the science and benefits of our ancient mystical yogic tradition and disciplines.