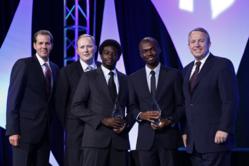 Las Vegas, NV (PRWEB) August 01, 2012
Certiport (http://www.certiport.com), the official test delivery solution provider for the global workforce and academic markets, today presented the Champion of Digital Literacy Award to Timothy William Adei and Ransford Mensah of Certified Ghana. Adei and Mensah were recognized for providing optimal learning and certification solutions to students who require technology skills to secure meaningful employment in the competitive job market in Ghana.
Certified Ghana offers a range of certifications in digital literacy, technology, and project management. Timothy Adei and Ransford Mensah have worked to secure partnerships with various examination bodies and subject matter experts, including Certiport, to offer students several options to meet their testing needs: instructor-led classroom based instruction, computer based training material without Internet required, online learning, exam preparation sessions, exam registration and the certification exams.
"Timothy Adei and Ransford Mensah are working tirelessly to help individuals in Ghana get certified, and their program has created a model for other countries in Africa," said Ray Kelly, CEO, Certiport. "The job market is very competitive in Africa, and digital literacy skills are essential for every citizen. Certified Ghana is promoting the IC3 certification and other, more advanced certifications, to help individuals gain the necessary skills to find employment."
The Champions of Digital Literacy Award was established in 2003 to honor the exemplary efforts of individuals across the globe who transform the landscape of education and employment through championing the adoption of digital literacy standards. Each year, nominations are received from around the world and award recipients are selected based on the measurable scope and social impact of their efforts.
About Certiport
Certiport is the leading provider of certification exam development, delivery and program management services delivered through an expansive network of over 12,000 Certiport Authorized Testing Centers worldwide. Certiport manages a sophisticated portfolio of leading certification programs including: the official Microsoft Office Specialist certification program, the Microsoft Technology Associate certification program, the Adobe® Certified Associate certification program, the HP Accredited Technical Associate, the CompTIA Strata™ IT Fundamentals, the Autodesk Certified User certification program, the Intuit QuickBooks Certified User certification program and the Internet and Computing Core Certification (IC³®). Certiport reliably delivers over two million tests each year throughout the secondary, post-secondary, workforce and corporate technology markets in more than 158 countries and 27 languages worldwide. For more information, please visit http://www.certiport.com or follow Certiport on Twitter at http://www.twitter.com/certiport.
"Certiport," "IC³" and "MeasureUp" are registered trademarks of Certiport, Inc. in the United States and other countries. The names of actual companies and products mentioned herein may be the trademarks of their respective owners.