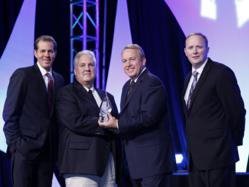 Las Vegas, NV (PRWEB) August 01, 2012
Certiport (http://www.certiport.com), the official test delivery solution provider for the global workforce and academic markets, today presented the Teacher of the Year award to Chuck Silvertooth, Career and Technical Education Coordinator at Jacksonville High School. Silvertooth was honored for his work in helping hundreds of students earn certification over the past five years at Jacksonville High School by spearheading the Microsoft Office Specialist (MOS), Adobe® Certified Associate, Internet Computing and Core Certification (IC³®), and Intuit Quickbooks Certified User programs.
"Chuck Silvertooth has worked diligently for the past five years to help his students prepare for college and the workforce by earning industry-recognized certifications," said Ray Kelly, CEO, Certiport. "By helping his students master key tools like Microsoft Office and Adobe products, Mr. Silvertooth is helping them get a leg up on the competition for jobs and college admissions. His expert tutelage has resulted in one of his students, Gabriela Tavera, winning a place in the 2012 Certiport Worldwide Competition on Microsoft Office as the United States finalist for Microsoft Excel 2007."
Silvertooth holds an annual Career and Technical Education awards banquet to promote certification to his community.
"Jacksonville is an agricultural area, and we are trying to change the climate of the community by helping kids see they can be technical and business-oriented as well," said Chuck Silvertooth. "Certification is one piece of that puzzle, and it has become a major drive within our department. These are the skills colleges and employers are looking for, and we want to help our high school students learn and validate them."
About Certiport
Certiport is the leading provider of certification exam development, delivery and program management services delivered through an expansive network of over 12,000 Certiport Authorized Testing Centers worldwide. Certiport manages a sophisticated portfolio of leading certification programs including: the official Microsoft Office Specialist certification program, the Microsoft Technology Associate certification program, the Adobe® Certified Associate certification program, the HP Accredited Technical Associate, the CompTIA Strata™ IT Fundamentals, the Autodesk Certified User certification program, the Intuit QuickBooks Certified User certification program and the Internet and Computing Core Certification (IC³®). Certiport reliably delivers over two million tests each year throughout the secondary, post-secondary, workforce and corporate technology markets in more than 158 countries and 27 languages worldwide. For more information, please visit http://www.certiport.com or follow Certiport on Twitter at http://www.twitter.com/certiport.
"Certiport," "IC³" and "MeasureUp" are registered trademarks of Certiport, Inc. in the United States and other countries. The names of actual companies and products mentioned herein may be the trademarks of their respective owners.