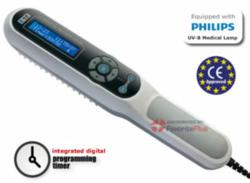 Vilnius, Lithuania (PRWEB) August 03, 2012
Favorite Plus is a leading distributor of healthcare products like Handheld ECG Monitors, Pulse oximeters and Phototherapy Lamps. It has launched a new product called DermaHealer UV-B Phototherapy Lamp for Psoriasis. 'Dermahealer' utilizes Phillips UV-B/311nm narrowband lamps with specific wavelength of the sun's natural spectrum for the treatment of Psoriasis, Vitiligo, Hyperbilirubin and other skin diseases. Though 'Dermahealer' is designed for home use, it is widely used by dermatologists, doctors, clinics, etc. around the world. The device has passed the most stringent EU laboratory safety tests and is CE certified as a medical device. CE certification shows compliance with the health and safety requirements set out in International Directives.
It has an integrated digital programming timer assuring accurate dosage, has a wide treatment area: 5cm x 15cm (2" x 6") which makes it more effective. It is available for $299 at Favoriteplus.com, much cheaper than others selling similar device for $500-$1000. It is portable, lightweight, safe and is powered by an AC adapter. While buying the device at Favoriteplus.com, having a doctor's prescription is not a requisite.
Through the precise and unique spectral energy distribution with an emission peak at 311 nm it reduces the potential side effects like redness and itching. The device is handheld UV-B Phototherapy Lamp and is drug free. It is a clinically proven device for the treatment of Psoriasis, Vitiligo, Eczema and similar skin conditions, both on the body and scalp.
The device is easy to operate. It simply needs to be placed against the affected area and can be used in as little as 4 minutes (3-4 times a week). Positive result and improvement has been seen in about a week's time, but of course results vary based on severity of each case.
With this device, patients can be assured to get result with minimum discomfort. They do not need to go to any clinic or other medical facility to get treatment. All they need to do is to use this device for a few minutes. DermaHealer UV-B Phototherapy Lamp is drug free and easy to manage. Favoriteplus.com can ship products worldwide. For the psoriasis, vitiligo and eczema patients 'DermaHealer UV-B Phototherapy Lamp' seems a ray of hope.