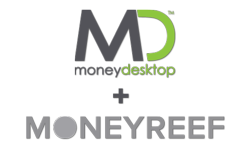 What MoneyDesktop has accomplished in such a short time is astonishing
Provo, Utah (PRWEB) August 02, 2012
As consumers increasingly seek ways to manage their money on the go, MoneyDesktop, named Best of Show at FinovateSpring 2012, has announced its acquisition of MoneyReef, a mobile personal financial management provider, recently named a winner of the prestigious Communication Arts' Interactive Annual Award. The acquisition accelerates MoneyDesktop's current mobile initiatives and bolster's its ability to provide consumers with an unmatched mobile PFM experience. Terms of the transaction were not disclosed.
The Consumers and Mobile Financial Services survey released earlier this year by the Federal Reserve indicated that 20 percent of bank customers used mobile banking at least once in the last year – indicating a sharp uptick in adoption. Both companies have moved quickly to meet the growing consumer demand for mobile money management and the acquisition amplifies MoneyDesktop's ability to provide financial institutions with the best PFM solutions available in online banking and mobile channels.
Ryan Caldwell, CEO of MoneyDesktop, said, "I knew that our cultures and mindsets were in sync when we sat across the table and talked with them." Caldwell continues, "Increasing our clients' loan volume has always been our top priority and PFM adoption and usage is where it all begins. The MoneyReef team had a solid understanding of this and were developing mobile applications where the user experience was designed specifically to move the needle on user adoption and engagement."
MoneyDesktop will integrate MoneyReef's talent into an already dynamic team and incorporate MoneyReef's award winning design into MoneyDesktop's industry leading PFM platform. The acquisition adds additional momentum towards MoneyDesktop's goal of providing an unmatched mobile personal financial management experience to the account holders of its growing client list of more than 300 financial institutions.
MoneyDesktop's rapid growth was a point of attraction for MoneyReef executives. In less than 2 years, the company has partnered with 25 online banking, core and payment network providers (e.g. First Data) and signed more than 310 financial institutions in the United States.
"What MoneyDesktop has accomplished in such a short time is astonishing," said Jason Cragun, President of MoneyReef. "Its path to market, partnerships with established online banking providers and vision beyond PFM made joining forces an obvious decision."
MoneyDesktop is currently making final adjustments to its iPad application, which it briefly demoed during the FinovateSpring 2012 conference. MoneyDesktop's iPad application is expected to be available in the app store in Q3 of this year.
About MoneyDesktop
MoneyDesktop (MD) is redefining the way that millions of people interact with their finances by developing software technologies that drive the financial engagement between account holders and financial institutions. Through its award-winning PFM, MD is the leading provider of online and mobile money management solutions and has become the fastest-growing provider of its kind. By integrating directly into online banking, core, and payment platforms, MD positions banks, credit unions and payment providers as financial hubs and offers tools that dramatically impact loan volume, user acquisition, and wallet-share. In 2 years MD has grown to over 310 financial Institution clients and established partnerships with 25 Online Banking/Core/Payment Network Partners.
About MoneyReef
MoneyReef is a mobile applications development company building robust, innovative financial tools that possess an industry-unique combination of rich features, flexibility and ease of use. This combination empowers consumers to interact with their personal financial information in entirely new ways. Because of its exceptional approach to product development and design, MoneyReef was recently awarded a winner of the 2012 Communication Arts' Interactive Annual Awards.
Further information: http://moneydesktop.com or contact press(at)moneydesktop(dot)com