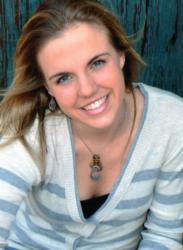 "I never gave up and always pushed forward even though I gave up time, sleep, and friends to achieve my goals."
Arlington, TX (PRWEB) August 04, 2012
College Admissions Assistance (CAA) awarded Chelsea Cushman of Battle Creek, MI $1,500 to go toward her college education and she has decided to focus on Architecture.
As a young girl, Chelsea loved analyzing the model homes she and her parents explored while searching for their new home. Her mom noticed Chelsea's particular interest and said that she should one day become an architect. Since that fateful day, Chelsea has not been able to shake the thought of designing buildings as a career.
"I figured my mind would change over time," she said. "But architecture has always interested me. I was drawn to the unique aspects of each building and amazed that something so beautiful could be the product of someone's imagination."
Chelsea knew that the only way to live out her dream was to gain a post-secondary degree from an accredited architecture program. She looked at many different colleges and decided on Kent State University in Ohio after visiting the campus and researching the university.
"I felt that I could see myself there," she said. "The other schools I visited felt 'off,' but Kent State felt like it could be home. The campus tour really helped make my decision."
Chelsea says she is excited about the design classes and studio work and plans to join Campus Crusade for Christ (CRU) and an intramural or club basketball team, even though it will not be easy juggling basketball with her classwork.
"I have played basketball for a majority of my life but it was always a sacrifice," she said. "I never gave up and always pushed forward even though I gave up time, sleep, and friends to achieve my goals."
Since Chelsea is the first child in her family to go to college, she said they were very unsure of what to do and how to handle the college planning process. She said that CAA took her step-by-step and answered all of her questions.
"CAA was really very helpful," she said. "I am not one who likes to ask for help, but in a weird way, CAA helped me realize that I can and should ask for help sometimes."
Chelsea said CAA's website tools and email reminders were some of her favorite services along with the application and essay reviews. She says she would recommended College Admissions Assistance and is excited about using her knowledge to advise her younger siblings.
"I would tell other students to get as involved with the schools and learn as much about them as they can," she said. "They will feel more comfortable about their decision if they are aware of the school overall." The CAA coaching team congratulates Chelsea and knows she will be great in all she does.
About the Company:
College Admissions Assistance is a comprehensive college-planning service that has helped thousands of students prepare themselves for college--from discovering a great career, achieving admission to the right college, and enjoying the best financial start in life. The company's ultimate mission is to help each student live out their unique purpose in life by helping them get started with the right college education.