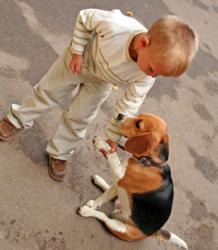 Adding a pet—no matter what the species—should be done thoughtfully, with careful consideration to the needs of the whole family," says Pavlides.
Roanoke, VA (PRWEB) August 03, 2012
A study released today indicates that the addition of a pet to the household may help autistic children develop skills. This empirical research backs up what many working in the field of human-animal interactions have known for a long time. For some children with autism, interacting with companion, therapy, or service animals can be life-changing. Merope Pavlides, author of "Animal-assisted Interventions for Individuals with Autism," urges families to think carefully, however, about how to best involve animals in their child's life.
"Sometimes a study like this can drive families to act hastily," Pavlides notes. "Adding a pet—no matter what the species—should be done thoughtfully, with careful consideration to the needs of the whole family." Pavlides, a special educator and dog trainer, has worked with many special needs families. She recently conducted a webinar through the Association of Pet Dog Trainers to help dog trainers work more effectively with autistic children, and will be writing a series of articles for "The Chronicle of the Dog" on this topic.
"People who work with autistic kids and animals often see amazing progress in their clients," Pavlides says. "For some children—and adults—on the autism spectrum, engaging with an animal can open up channels of communication and interaction that were previously closed. That said, not all autistic people are going to find animal interactions helpful or even pleasant. For some, sensory issues triggered by proximity to animals can be overwhelming."
How can you tell if getting a pet for your child is the right choice? "There are lots of ways to test out your child's responsiveness to animals," Pavlides says. "Many therapy animal groups provide opportunities for children with disabilities to interact with pets. Consider how your child responds to pets he or she comes into contact with in the family or neighborhood."
In addition, it's important to think about how the pet will fit into structure of the family as a whole. "Adding a pet to the family is a huge responsibility," says Pavlides. "For some families, a pet can help 'normalize' family life, provide siblings with a bridge to engage with their autistic brother or sister, and provide the autistic child with what's referred to as 'social capital'—being more accepted by peers. However, for other families—who may already be overwhelmed by workload and expenses—having a pet adds unwelcome stress."
Pavlides recommends doing research before obtaining a pet, which may include consulting a trainer. "Animal shelters are filled with pets that weren't successful in their families' homes," she notes. "Being thoughtful in embarking on pet ownership is in the best interest of everyone, including the pet." She also urges considering other animal-assisted interventions, such as therapeutic riding.
In addition to her work with animals, Pavlides currently edits the website Autism After 16. Autism After 16 is a website devoted to providing information and analysis of adult autism issues. Over 50 percent of its contributing writers are autistic adults, while many others are family members. Autism After 16 provides informational articles on accessing adult services, commentary, links to useful resources, and a library of videos to help teach independent living skills.