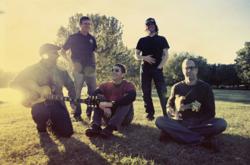 Cincinnati, OH (PRWEB) August 06, 2012
moe. is the preeminent progressive rock band on the music scene today. With 20 years of touring and just as many albums under its belt, the quintet of Al Schnier and Chuck Garvey on guitars and vocals, Rob Derhak on bass and vocals, Jim Loughlin on percussion and vibes, and Vinnie Amico on Drums, continues to push the standard for performance art.
General admission tickets, $30.00 ADV & $35.00 DOS (plus applicable fees), go on sale Friday August 24 at 10 AM at http://www.ticketmaster.com, http://www.tafttheatre.org, the Taft Theatre Box Office and all Ticketmaster outlets including select Kroger stores. Charge by phone at 1.800.745.3000.
After two decades of writing, recording and touring together, veteran jam band moe. took stock of where they'd been, released a retrospective, then turned the page.
Two years later the Northeast-based five-some has opened a new chapter in the moe. story. What Happened To The LA LAs is the band's first completely new collection since 2008, and while creative evolution has always been a moe. hallmark, What Happened To The LA LAs shows the band stepping outside their comfort zone in some significant ways.
"For most of our career we've done everything on our own in a very cottage industry, home-y kind of way," explains Chuck Garvey, guitarist and vocalist. "Everything we take on — whether it's the creation of a T-shirt, a song, an album or a festival or concert — from start to finish, we have our hands in it. And this time we actually made the leap of putting ourselves in someone else's hands to help us come out with something different."
Toward that end, moe. signed with Sugar Hill Records, their first label partnership in more than a decade. Next they brought in an outside producer for the first time: John Travis, whose work with Kid Rock had earned him fans within the moe. camp.
For moe. — which in addition to Garvey includes Vinnie Amico (drums), Rob Derhak (bass, vocals), Jim Loughlin (percussion, Malletkat) and Al Schnier (guitar, vocals, keyboards, mandolin) — it was a major philosophical change. After all, this is the same band which famously built a recording studio inside a 150-year-old decommissioned church for 2008's Sticks And Stones.
"I, for one, was unsure about the process," admits Al Schnier. "I'm always wanting to see my songs through from start to finish. So deferring to somebody else, even on something as mundane as the mic placement on an instrument during recording, was a lot to let go of."
But Rob Derhak found letting go a huge relief. "The amount of responsibility that comes with the control is a little daunting," he notes. "Especially when you're dealing with for the most part three creative forces in the band. It's kind of nice to have somebody else make decisions. It's good to have a tie breaker, at the very least."
Which doesn't mean What Happened To The LA LAs is a sharp departure from moe.'s signature roots-rock and exploratory jams. Travis's most pronounced contribution was to challenge the band creatively enabling the album's 10 tracks to retain their dynamic essence, even in a studio setting.
The result of all this in-studio transformation is not so much a polished sound as a professional one, says Derhak. "I felt John Travis did a great job of having everything sit in its own spot in the mixes. Everything is real dirty and gritty, but at the same time it's all there and it all makes complete sense." Partnering with Sugar Hill is another change for moe. The hope is that What Happened To The LA LAs will reach a wider audience as a result.
"Doing it on our own, our resources are limited by our size," Derhak says. "We were looking for somebody who can kind of expand who we can reach."