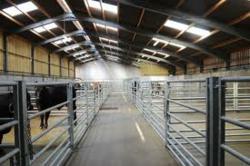 It would be terrific if farmers attend the auction in numbers to show prospective buyers that there is plenty of enthusiasm among locals for resuming regular abattoir operations in the region
Edinburgh, Scotland (PRWEB) August 04, 2012
Pro Auction is pleased to announce a live auction sale to be held at Scottish Borders Abattoir Limited. Winston Road, Galashiels, Selkirkshire TD1 2DA on the 12th September 2012 commencing at 10.30am.
The EEC approved plant will be sold piecemeal both from the rostrum and via online bidding at http://www.bidspotter.com
The Borders is a major livestock-producing region with the potential to supply high volumes of good quality meat. The region has a good network of butchers and branded producer-retailers who are a great credit to the area. Borders farmers previously raised concerns following the announcement that the only abattoir in the region is no longer to be used for slaughtering cattle and sheep.
The announcement for the auction comes shortly after news that potential buyers are being sought for Hall's of Broxburn a closure-threatened meat plant in West Lothian, where a special taskforce has been established by the Scottish Government.
Pro Auction, a leading auctioneering firm in plant and machinery sales, envisage a strong interest in the sale from slaughter operators, meat cutting plants and farmers.
Mark Flynn director at Pro auction said "It would be terrific if farmers turned up in numbers to show prospective buyers that there is plenty of enthusiasm among locals for resuming regular abattoir operations in the region".
The lots will be sold in catalogue order from 10.30am and a viewing day has been arranged on the 11th September to allow prospective bidders a preview of the site between 10:00am and 4:00pm.
The plant was processing all three species and has capacity to process and chill large volumes.
Details can be obtained from the auction house Pro Auction on (+44) 01761 414000 or from the auctioneers website directly.