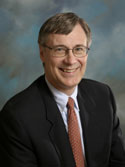 Dr. Stelzer is a godsend... It's five months after my Ross Procedure surgery and I couldn't feel better!" shared Jeffrey Shebovsky, a patient from Florida.
New York, NY (PRWEB) August 06, 2012
HeartValveSurgery.com, the largest online resource and community of patients with heart valve disease, announced today that Dr. Paul Stelzer has been named its current 'Featured Heart Valve Surgeon'. Dr. Stelzer practices at The Mount Sinai Medical Center, the #10 ranked cardiac care program by U.S. News and World Report.
"With over 5,000 cardiac procedures to his credit, Dr. Stelzer is internationally recognized for his pursuit of healthy hearts," stated Adam Pick, founder of HeartValveSurgery.com, author of The Patient's Guide To Heart Valve Surgery, and a former patient. "Specific to the Ross Procedure, Dr. Stelzer is a guru. Many patients from our community – including Jeffrey Shebovsky, Mark Kroto and Chris Dixon – have had excellent surgical results thanks to this incredibly skilled surgeon."
The Ross Procedure is a unique double heart valve replacement surgery in which the patient's diseased aortic valve is exchanged with their native pulmonary valve. The pulmonary valve is then replaced with a human donor valve.
Since 1986, Dr. Stelzer has completed 519 Ross Procedures. Considered to be a very complex operation, Dr. Stelzer has performed over 300 Ross Procedures without patient mortality.
"Dr. Stelzer is a miracle worker," shared Mark Kroto, a patient from Chicago, Illinois. "Less than three weeks after surgery, other than some minor incision soreness, I'm completely fine. I'm proud to be Dr. Stelzer's 500th Ross Procedure."
Jeffrey Shebovksy, another Ross Procedure patient of Dr. Stelzer's from Windermere, Florida, shared, "Dr. Stelzer is a godsend, a genius and an amazing super human being. It's five months after my surgery and I couldn't feel better!"
With this announcement, Dr. Stelzer joins an elite group of surgeons who have received 'Featured Heart Valve Surgeon' status at HeartValveSurgery.com. To celebrate Dr. Stelzer, the website will highlight Dr. Stelzer's accomplishments across its interactive platform which includes a surgeon finder, a heart valve clinic directory, educational videos, an interactive blog and a social network.
During 2011, HeartValveSurgery.com received 1.2 million visits while expanding its online library to over 10,000 pages of free information.
"This is a great and unexpected honor," noted Dr. Stelzer, who was a principal investigator of the Medtronic Freestyle Valve and former President of the New York Society of Thoracic Surgeons. "There is no better feeling than being recognized by my patients, many of whom learned about the Ross Procedure at HeartValveSurgery.com."
To see Dr. Stelzer's featured post at the Surgeon Finder at HeartValveSurgery.com, please visit http://www.HeartValveSurgery.com/Stelzer.
About HeartValveSurgery.com
Founded in 2006, HeartValveSurgery.com has helped millions of patients and caregivers better understand the potential challenges and opportunities of heart valve surgery from the patient perspective. This website provides a trusted, end-to-end platform for patient education and empowerment including a surgeon finder, a social network, videos, an interactive blog and a heart valve clinic directory to support patients before, during and after heart valve surgery.