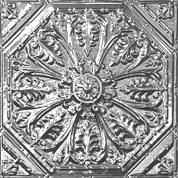 The Victorian designs are by far the most popular.
Houston, TX (PRWEB) August 07, 2012
Victorian designs were first introduced from the 1860s to the 1900s during a very romantic time; frilly and fancy were the designs of the time. The Victorian style that Chelsea is bringing back is a 24-inch repeat pattern on a 2' x 4' sheet. Today, there is a great surge for Victorian designs and Glenn "The Tinman" Eldridge says, "The Victorian designs are by far the most popular." The 24-inch design is best displayed when used in large and high areas, but there are many other Victorian patterns already in Chelsea's catalog that can be used in smaller and lower areas.
As the new century turned the corner, so did the rebellion against the existing styles and this encouraged originality and simplicity of designs. Also, with mass-produced housing beginning during this time, it was more efficient to have clean finishes, and because of this, architects and designers had straight lines in mind, leading to the Turn-of-the-Century design. As a reflection of this period of time, Chelsea has produced a 6-inch square pattern in a square design. This 6-inch pattern is wonderful for small areas like bathrooms, back splashes, bar fronts and can even be used in large areas with lower ceilings. Chelsea already has this same pattern in a 12-inch and 24-inch design.
The third new design to grace Chelsea's stock is an Art Deco design. The Art Deco movement began in Paris in the 1920s and worked its way internationally beginning in the 1930s. The Chrysler Building and the Empire State Building are the two best-known examples of this style in the United States. This particular design is being introduced as a 12-inch pattern. Chelsea already produces similar designs of this style in a 6-inch and 24-inch pattern.
Chelsea is a family-owned business from New York but now manufactures tin ceilings in Houston, Texas and ships them around the world. These new designs join the numerous others that capture the styles of their time and are available in various different sizes.
The three new designs come on sheets 2' x 4', but Chelsea's other pattern come in either 2' x 4' or 2' x 2' for easy installation. The new designs should be installed by nailing them up, but 2' x 2' sheets for suspended ceilings are also available. The ceilings are pressed in tin-plated steel with a shiny silver finish, but is also available in a copper finish and several hand-painted finishes that can all be found at http://www.tinman.com
Tin ceilings have been a blessing for architects throughout the years. Not only has Chelsea supplied these tin ceilings since the 1950s, but even today, Chelsea is bringing back the original designs from various time periods. When looking for decorative material from Art Deco to Victorian, check out The Tinman.