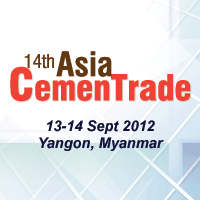 An Opening Address by H.E. U Soe Thane, Union Minister of Industry, Ministry of Industry, Myanmar, will officially mark the opening of the summit.
Yangon, Myanmar (PRWEB) August 08, 2012
Asia's infrastructure development and construction projects are contributing factors of the region's expanding cement industry; particularly in Myanmar, a nation in transition, where reforms, anticipation of the foreign investment law and the lifting or easing of sanctions have conveyed positive signals to foreign investors who have recognized the potential within the nation. Large-scale hydro-electric development and deep-sea port projects, road works, airports, hotels and other construction activities translate to high cement demand in Myanmar. CMT's 14th Asia CemenTrade which will be held in Yangon from 13-14 September 2012 offers investors, traders and businessmen, a kaleidoscopic view of the demand, challenges and trends of the cement industry, infrastructure development, construction activity, investment laws, economic prospects and cement trading.
An Opening Address by H.E. U Soe Thane, Union Minister of Industry, Ministry of Industry, Myanmar, will officially mark the opening of the summit. This is followed by talks by other key officials which include U Ko Ko Hlaing, Chief Political Advisor to the President, Office of the President, Rep of the Union of Myanmar, U Kyaw Lin, Managing Director of Public Works, Ministry of Construction, Myanmar, U Aung Naing Oo, Director General, Directorate of Investment and Company Administration (DICA), and a Senior representative from Myanmar Port Authority.
Cement export to Myanmar is expected to increase as several cement giants and governments such as Siam Cement Group and the Government of Nagaland make plans to export cement.
On the other hand, companies like PT Semen Gresik have announced plans to set up new plants in Myanmar. Themed "Tapping into Asia's Next Frontier – Strategies, Opportunities & Challenges!," the summit will spotlight on the Asian cement industry, especially in Myanmar, India, Bangladesh, Indonesia and China. To present a complete overview of the developments in Myanmar, experts such as, Mr. Eric Siew, Chief Investment Officer – Building Materials, International Finance Corporation (IFC); Dr . Adam McCarty, Chief Economist, Mekong Economics Ltd; and Mr. James Finch, Partner, DFDL Mekong Group / Myanmar Thanlwin Legal Services will share their invaluable expertise via multi-faceted sessions.
More than 100 delegates representing major cement players, suppliers, traders, financiers, and logistics companies plus others, have already registered for the 14th Asia Cementrade Summit! Participants will hear from key decision makers at major conglomerates including Premier Cement Mills Ltd, Binani Industries Ltd, Aumund Group, PT Semen Gresik Persero TBK, EAM Shipping & Projects Ltd, London and many more. They will deliver presentations on infrastructure boom, construction activity, supply and demand, handling and storage, cement trade challenges, logistics and other crucial subjects relevant to the cement sector.
Furthermore, to complement this program, an optional, separately bookable Post Conference Workshop entitled "Introduction to Business Ventures in Myanmar", led by Mr. Alessio Polastri, Managing Partner, P&A Asia, will be held on 14 September from 14:00 – 17:00. The workshop is designed to provide an overview of the investment environment in Myanmar, present brief updates on the Investment, Mining, Labour and Banking Laws, examine the potential challenges of doing business in Myanmar and structuring a JV transaction, among other dynamic subjects.
Obtain more details of the sessions and the Post Conference Workshop in the Event Schedule at http://www.cmtevents.com/eventschedule.aspx?ev=120939&
For further enquiries on the summit, workshop or registrations, contact Ms. Grace at grace(at)cmtsp(dot)com(dot)sg or at 65 6346 9147.