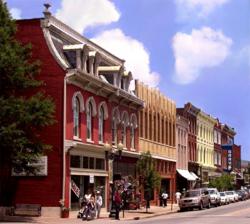 Brentwood, TN (PRWEB) August 21, 2012
Brentwood-based AED.com, a subsidiary of DXE Medical, sells new and re-certified AEDs of all makes and models. Both Brentwood and Franklin are suburbs of Nashville, TN and AED.com is based on the line dividing the two cities.
In March, the City of Franklin made the decision to upgrade its aging collection of Lifepak 500s with New Phyiso-Control Lifepak CR+ AEDs. AED.com decided to contribute to the transition by replacing the older devices for the current production model of AED, the Lifepak CR+. "Being a local company, we felt an obligation to help make the community safer for would-be victims of sudden cardiac arrest," says Matthew Spencer, President of AED.com.
The new Lifepak AEDs will be placed in local government buildings such as City Hall, the County Courthouse and police station. The local fire department and EMS service utilize the Physio-Control Lifepak 12 and 15 defibrillators. The emergency responders trust and prefer the Physio-Control brand products, making the choice of the Lifepak CR+ AED an easy one.
In a market that has several good AEDs available with different features and benefits, the Lifepak CR+ has one major advantage: escalating energy output to 360 joules. Some competitive devices do not escalate or only shock at 150J. Studies show that shock conversion improves dramatically when the energy delivered from the AED goes up to the maximum of 360J.
Escalating energy is, simply, a low-level initial shock followed by subsequent shocks at a higher level. Logic dictates that a higher energy shock may be necessary if the previous shock fails to convert a victim of sudden cardiac arrest. Only Lifepak devices go up to 360J.
The Lifepak 500 AEDs are arguably the most popular AEDs ever made and have been a workhorse in both the emergency responder and public safety markets. While supplies for the Lifepak 500 are still available, Physio-Control ceased to manufacture the device in 2009. The replacement devices for the first responder and public safety markets are the Lifepak 1000 and Lifepak CR+, respectively.
AED.com is glad to partner with the City of Franklin and applauds their commitment to upgrading their deployed AEDs. AED.com is owned by Matt and Julie Spencer, who started DXE Medical in a two-bedroom apartment two miles from their current 27,000 square foot facility.