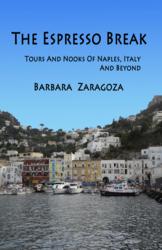 Part atlas, part history lesson, part epicurean review, this comprehensive handbook to Naples is without peer. –Kirkus Reviews
Chula Vista, CA (PRWEB) August 08, 2012
The Kindle Edition of Barbara Zaragoza's travel guide: The Espresso Break: Tours and Nooks of Naples, Italy and Beyond (ISBN Number 978-0-9835099-2-9) is now available for readers to download in minutes.
The Espresso Break re-creates the Neapolitan cultural feel of the city (old is better) using both tours and nooks to go deeper into the ancient Roman ruins, wandering through the mazes of medieval Naples, and rising to the modern twists of Neapolitan espresso.
Kirkus Reviews recently featured the book in their 7/1 Magazine, and said: "In her debut travel guide, Zaragoza puts together the ultimate companion for readers planning a trip to Naples… Zaragoza takes readers from the heights of Mount Vesuvius to the ruins of Pompeii and beyond. Part atlas, part history lesson, part epicurean review, this comprehensive handbook to Naples is without peer."
At Armchair Traveler, Jim McDonough said: "This is an amazing piece of work.It wears the label of a travel book, but it is so much more—there is Italian history, Roman history, Greek history, archeology, art history, Italian culture, WWII history, several very interesting looking recipes, restaurant recommendations, hotel recommendations, and a fairly cogent explanation of current Italian politics. And, oh, yes, an incredible amount of information about Naples and surrounding areas."
In addition to the ebook and paperback, the travel guide is now available internationally on Amazon.com sites in Italy, the UK, Germany and at other countries. You can also find more about Naples at Zaragoza's website: Naples (Napoli) Travel Information Guide.
Barbara Zaragoza is a travel writer, blogger, wife and mother of three children. She has a Master's degree from Harvard University in European history and enjoys off-beat adventures that tie local history and cuisine together with travel. She has learned around seven languages (piu o meno) and has traveled through 21 countries in Europe, 36 States of America, and five continents. She has written for Italian websites such as Napoli Unplugged, Italian Notebook, and Under The Tuscan Gun. She also writes a weekly blog called California Notebook.