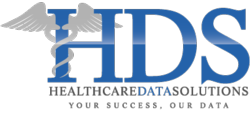 Irvine, CA (PRWEB) August 07, 2012
Healthcare Data Solutions, the most accurate and trusted provider of healthcare databases and healthcare industry business intelligence services has released an interview with Healthcare Data Solutions' CEO, Tim Slevin, and Bob Wan Kim of Sparkah.
In the recent interview with Sparkah, Slevin discusses the rising costs of messaging to Prescribers, as well as compliance solutions for the medical device and pharmaceutical industries. Slevin highlights HDS' solutions for the medical and pharmaceutical industries sales teams – how they can reduce bleeding profits and sales cycle time, how to communicate with Prescribers, how HDS is able to provide the most accurate data and more.
"We help our clients understand at an enterprise level where their sales representatives have the most opportunity, how marketing should message and communicate to healthcare providers, plus we can help operations and compliance because our data is presented in a structure surrounded with one ID which could go anywhere in their business," says Slevin. "In fact, we've recently expanded our compliance services to include real-time access to prescriber data to help our clients with the Sunshine Act, PDMA compliance and more."
You can access this short video interview here: Watch HDS Interview
About Healthcare Data Solutions:
Healthcare Data Solutions is a leading healthcare information services company focused on building and distributing Physician, Pharmacy, Dentist, Nurse and Hospital databases. HDS provides healthcare data, physician validation programs, data processing, compliance services, web services and new customer acquisition programs for leading healthcare firms. With over 2 million healthcare provider profiles and 1 million healthcare provider emails, HDS is the fastest growing healthcare data services company in the United States. For more information, visit HealthcareDataSolutions.com.